Have you already identified the perfect destination for your holidays? Well, now you just have to choose which structure to stay in and what type of treatment. The variables to be taken into consideration when choosing the optimal accommodation are many: the comforts you may need, the services offered by the destination structure, your needs in terms of space and schedules… Luckily Bibione has a lot of vast offers and able to satisfy even the most demanding vacationers: from the youngest ones, looking for opportunities for fun and entertainment, to families who want to spend a few days relaxing themselves.
Full board in hotel, it is financially worthwhile?
Among the most requested structures by travelers there are THE hotels, because they offer a wide range of services: some more widespread, such as room service, laundry, swimming pool or gym, others more sought after, such as the organization of day trips, the Spa, rental of means of transport and entertainment for the little ones. If you want to spend a holiday free from all worries and forget, even just for a few days, your daily routine, opt for this type of accommodation and you won't regret it.
Then if you particularly like to be pampered, you can take full-board treatment: among the most requested by tourists, it allows you to pay a low price in exchange for numerous comforts, which also include the three main meals of the day (breakfast, lunch and dinner) that can be consumed comfortably in the restaurant inside the structure.
Which are the advantages of the full board?
Full board is the most popular formula for families and elderly couples, for a variety of reasons:
Having everything at hand, you are not forced to leave the place where you are staying and you can enjoy a holiday in complete tranquility without having to worry about where to go for dinner;
You can enjoy excellent cuisine at a lower price than in any other restaurant;
In addition to saving money, you can also save time (do you know how populated the restaurants are in tourist areas?).
Overnight in Bibione: the formulas
To have all this and much more, the perfect destination for your holidays is Bibione! Here you can find a wide range of hotels, together with a clean and child-friendly sea, breathtaking natural landscapes and historic attractions to visit.
Did you know that it is one of the most popular seaside resorts in Italy? For this reason, over the years the city has equipped itself to satisfy every type of target and pocket, and to offer a wide choice of different structures for range and quality.
FULL BOARD FOR THOSE LOOKING FOR RELAX
If you are looking for total relaxation in a holiday, Bibione offers you a wide range of hotels and aparthotels equipped with the full board. The structures can have from one to five stars and include exclusive services such as spa centres, thermal pools, areas dedicated to sports and the possibility of participating in trips and excursions. Depending on your needs, you can choose between a sea-view hotel, overlooking the Adriatic stretch of water, or one located in the hinterland, easily connected to the beach and the city centre.
HALF BOARD TO EXPERIMENT NEW KITCHENS
Don't you like to be tied to specific times and do you think that full board is not for you? No problem: many of the hotels in Bibione also offer half-board accommodation, which includes overnight stay, breakfast and a meal chosen between lunch and dinner. This solution is particularly suited to those who, on holiday, like to move and explore the surroundings, or to food lovers who prefer to experiment with different cuisines.
ONLY BOARD FOR THOSE WHO DON'T WANT TO HAVE TIMES
If, on the other hand, you love to live "for the day" without planning anything, the most suitable formula for you is that of bed and breakfast, which does not impose lunch and dinner times and leaves total freedom of movement. It is the perfect way to stay for real "travelers", who do not want to be subject to fixed hours and wish to be independent in choosing where and when to have their meals.
Bibione food-and-wine offer: lunches and dinners on the beach or in the city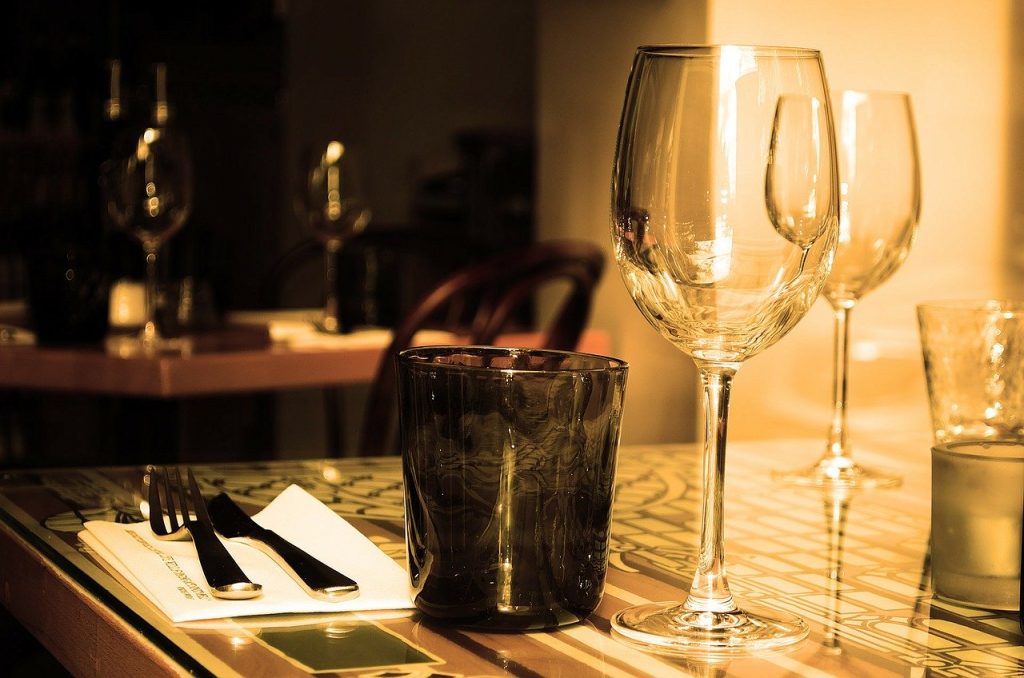 Whether you choose a full board or any other accommodation formula, you will not be disappointed: Bibione is able to offer you everything you need to make your holiday unforgettable. Not only in terms of facilities to stay in, but also in restaurants, bars and pubs where you can have lunch, spend time in good company, have a drink and enjoy city life.
You can also think of transforming your holiday into a food-and-wine journey to discover the flavours and Venetian culinary tradition: in the numerous restaurants of the area, it is possible to immerse yourself in a journey through the regional cuisine, tasting dishes designed for every palate and every need. You can taste the famous white asparagus, or the blue fish caught directly in the lagoon, but also the meats and charcuterie produced in the area. And why not accompany all this with a 0-km good wine? Like the one produced by the Lison-Pramaggiore cellars, located near Bibione, where it is also possible to organize tasting courses.
For those who prefer a "fast" meal on the waterfront, in Bibione you can take advantage of the many kiosks, pubs and bars that overlook the beach and offer the opportunity to spend a Happy Hour watching the sunset and listening to some live music!
Traditionalists or not, looking for a complete offer or a holiday full of freedom, Bibione is waiting for you without ever disappointing you!