Bibione all to be run! The Bibione is Surprising Run comes back, and its nineth edition will be held in Bibione on Saturday, 30th September 2023 with the competitive and non-competitive FIDAL 10-mile race (16,093 m).
The route will wind through the centre, the promenade and the beautiful pinewood of our seaside resort.
This is the program of the event, with meeting point in Piazzale Zenith:
Saturday, 30th September:

1:30 pm – meeting point in Piazzale Zenith
3:30 pm: start of the BibioneRun 10 miles FIDAL competitive (maximum time 2:30 hours)
3:35 pm: start of the BibioneRun 10 miles non competitive (maximum time 2:30 hours).
While this is the route: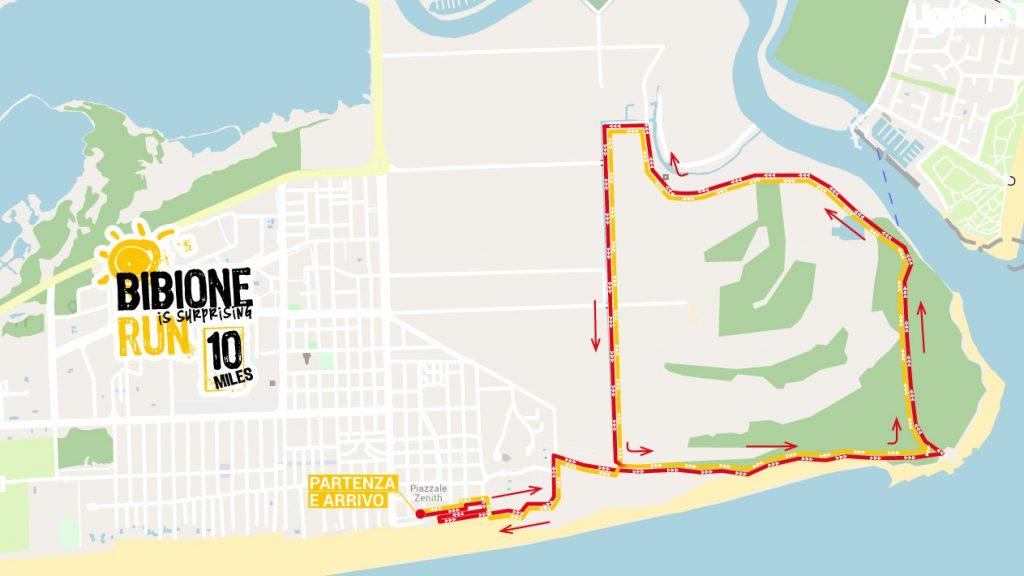 Registration is already open and will close at 12 am on Thursday, 28th September 2023.
The first three athletes for each category, both male and female, will be awarded; moreover, upon arrival each participant will receive a final refreshment bag.
There will always be an adequate medical assistance service, both along the route and on the starting and arrival points. Showers, changing rooms and bag storage are not provided in compliance with anti-contagion regulations, toilets and athletes' parking lots are provided Piazzale Zenith with limited and sanitized entrances.
Let's not forget the Corsa delle Rose, also scheduled for Sunday, 1st October with departure at 10:00 am from Piazzale Zenith.
For further information about the competitions:
ASD Running Team Conegliano
Cell. 340 6816856 (Sig. Maurizio Simonetti)
E-mail: mauri.simonetti@libero.it
Sito web: www.bibionerun.com
Facebook: Bibioneissurprisingrun
Are you looking for a hotel on occasion of this appointment? Contact us! You can stay in Bibione with special rates:
Booking Centre of Bibione Hoteliers' Association
Corso del Sole, 2 – 30028 Bibione (VE)
Phone number (+39) 0431 447052
E-mail: rossella@abaviaggi.it
Run in Bibione; let surprise yourself in discovering its thousand faces!