On Sunday, 1st October 2023 Bibione will be tinged with pink on occasion of the Corsa delle Rose, the run dedicated to women, but open to all, which for the first time takes place on the beach of Bibione.
This is a playful-motor-sports event on a distance of 5 and 9 km along the streets of Bibione, with free pace, Nordic and fit walking.
The meeting point is in Piazzale Zenith, starting and arriving point, where you can find the Village Area. Here is the program:
Saturday, 30th September

From 3 to 7 pm – last registrations, race kit and t-shirt collection

Sunday, 1st Otober

from 8:00 to 9:30 am: last registrations, meeting, race kit and t-shirt collection
10:00 am: start of the Corsa delle Rose (maximum time 2 hours)
12:00 pm: arrival; awarding of the first more numerous three groups or associations with a basket of typical Veneto products.
While this is the route: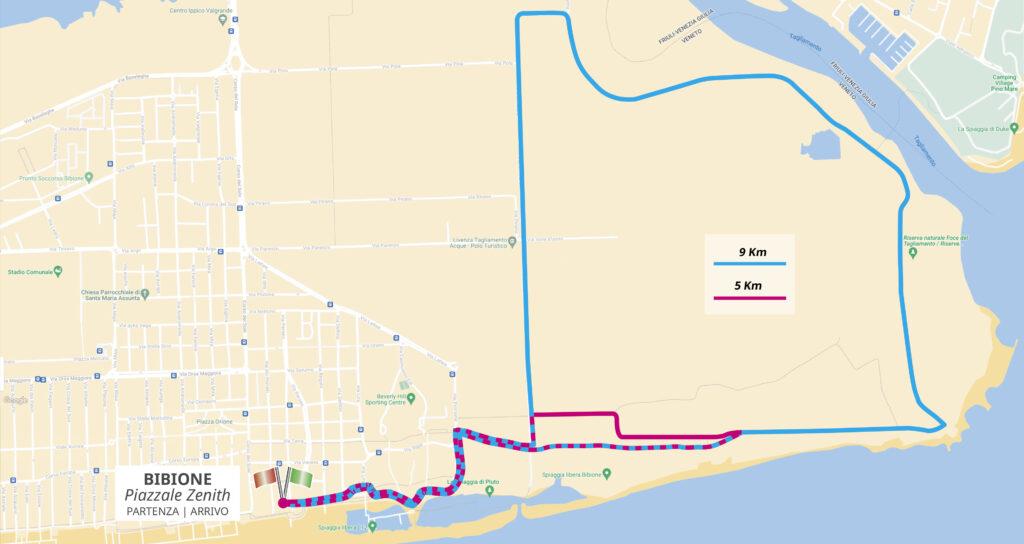 There is a refreshment point along the route, with water; upon arrival, a refreshment bag will be delivered. The event will take place in any weather condition.
The proceeds of the event, deducted the costs of organization, will be donated to LILT (Italian League for the Fight against Cancer) and other institutions in need, in support of the Pink Ribbon worldwide campaign for the prevention of breast cancer.
Registrations are already open:
Online within midday of Firday, 29th September 2023
Directly on spot on the above mentioned days and hours.
The registration fee is Euro 12,00 from 8 years old, or Euro 8,00 under the age of 8. All participants will receive a race package with a technical t-shirt.
For further information about the run:
Are you looking for a hotel on occasion of this appointment? Contact us! You can stay in Bibione with special rates:
Booking Centre of Bibione Hoteliers' Association
Corso del Sole, 2 – 30028 Bibione (VE)
Phone number (+39) 0431 447052
E-mail: rossella@abaviaggi.it
This is also Bibione: being able to combine sport, beach and doing good!