On Thursday, 8th December the traditional Sand Nativity in Lignano Sabbiadoro comes back: exhibition of sand sculptures just a few minutes from Bibione, which in 2022 reaches its 19th edition.
New this year is the new location in front of the Beach Office n. 6 (Pinguino) in via Lungomare Trieste 7 – in front of the San Giovanni Bosco Park – where it will in fact be possible, from 8th December 2022 to 5th February 2023, to see the works of various professionals in sand processing in an exhibition that every year welcomes thousands and thousands of visitors from all over Europe.
Days and opening hours are as follows:
Full time from 10 am to 6 pm:

December: from 8 to 11, from 17 to 24, from 26 to 31
January: from 1 to 8, on 15, 22 and 29
February

: on 5.
Only afternoon from 2 to 6 pm:

December: from 12 to 16, on 25
January: on 14, 21 and 28
February

: on 4.
The event, which entrance is with free donation, is organized by the Association Dome Aghe e Savalon d'Aur, in collaboration with Pro Loco Lignano, Lignano in Fiore Onlus, Lignano Sabbiadoro Gestioni, with the support of the City of Lignano Sabbiadoro and the contribution – fundamental – of the local associations. It is inserted in the frame of the celebrations of "Natale d'A…Mare" of the Friulian seaside resort.
This year there is no reservation needed.
The 2022 edition takes its cue and is inspired by the Teodorian mosaics of the Basilica of Aquileia, and the theme is "Infinity tiles: Stories and legends of early Aquileian Christianity". Two common threads: the sea (Lignano's main resource) and the "colours of light" (to recall the "colour of the mosaics" and to symbolically allude to the "spiritual light"). The beauty of the sculptures will weave the plot of a fascinating story which, starting from ancient stories and myths of the area, will be able to speak to everyone – despite these difficult times – about art, culture, spirituality, sharing and hope.
The valiant artists and professionals of the sand very year work for months to realize real sculptures without the use of glues or other similar materials for the maintenance using only sand, water and their great mastery.
Appointment then in Lignano to admire a valuable work, which will leave you with an open mouth!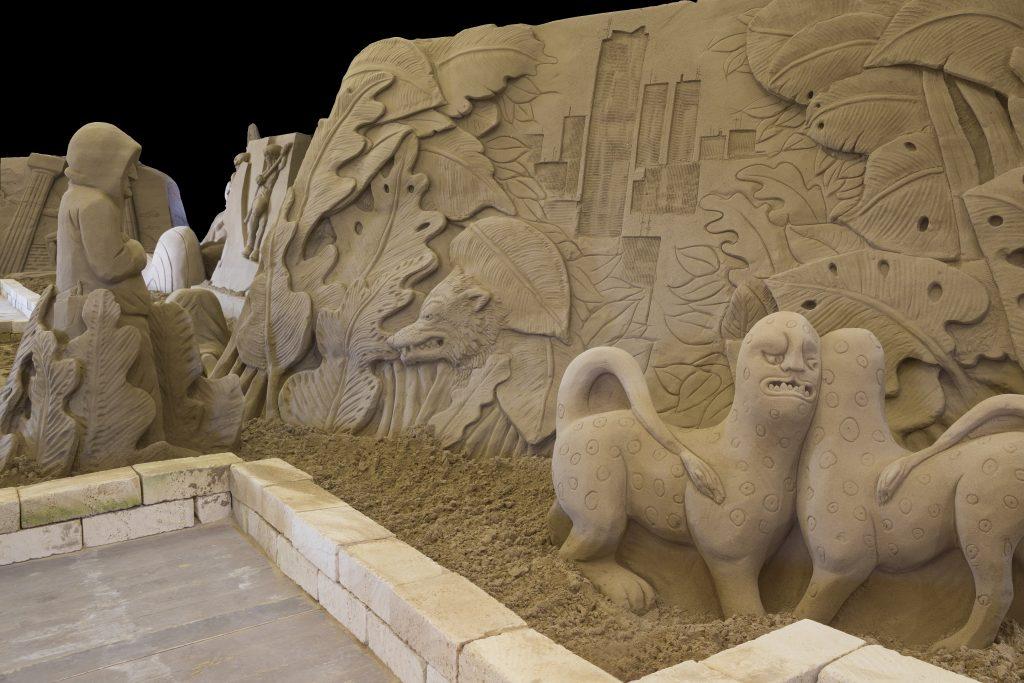 Photocredit: Associazione Dome Aghe e Savalon d'Aur