There are again three appointments scheduled for 2022 of the BeachVolley Junior® Trophy: the biggest youth tournament of the specialty, which will take place in Bibione and will involve children and young people from Under 10 to Under 19. The fields will be located on the beach in front the Villaggio Turistico Internazionale on the following dates:
Sunday, 24th and Monday, 25th April
from Sunday, 26th to Tuesday, 28th June (first tournament)
Thursday, 30th June and Friday, 1st July (second tournament9.
The tournaments are divided by categories of game based on the year of birth, with male, female and mixed teams; the height of the network will also be adjusted to this data. The teams will have from a minimum of 3 to a maximum of 6 athletes. After a first qualifying phase by legs, a ranking will be drawn which will give access to the final stage.
The events will take place with any weather condition; participating clubs are offered the opportunity to organize a sports retreat in the days before or after the tournament.
The daily program will be enriched by:
Welcome party
Evening partys
Final awards.
Deadline for registrations is as follows:
Spring Edition – 5th April (advance payment) / 8th April (balance)
Summer Edition – 7th June (advance payment) / 10th June (balance)
For every information:
 The BeachVolley Junior® Trophy is a project designed to offer the highest safety standards, with:
compliance with anti-COVID 19 protocols
medical assistance service
on-site service for carrying out the antigen test (rapid swab)
cleaning and sanitizing of common areas.
Discover the personalized rates by ABA Viaggi dedicated to the participants by booking through our office: CLICK HERE to receive your offer!
Booking Centre of the Bibione Hoteliers' Association
Corso del Sole, 2 – 30028 Bibione (VE)
Phone number (+39) 0431 447052
@  rossella@abaviaggi.it
The organization of the BeachVolley Junior® Trophy is curated by SportFelix® in collaboration with Asd Beach&Sport, affiliated with the Italian Volleyball Federation (FIPAV), with the aim of offering programs designed to entertain and practice physical activity, stimulating healthy lifestyles.
Bibione is also this: lots of sports and fun for children and teenagers!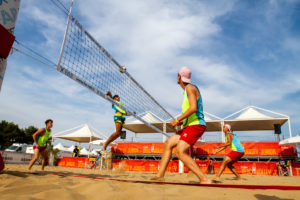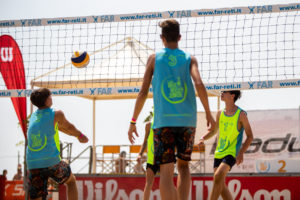 Photo Credits: BeachVolley Junior®