Do you want to give yourself a holiday with your children as a present and are you wondering what features a place should have to meet their needs? Whether you choose the sea or the mountain, the lake or the countryside, it is important that – in addition to the budget and the type of structure of interest (hotel, apartment, bed & breakfast) – the identified destination is tailored to the youngest ones.
Taking into consideration the sea, it is good to check that the identified destination has sandy beaches, shallow waters, a clean sea and services for families: baby-club and junior-club both on the beach and in hotels, restaurants with high chairs and dedicated menus, playgrounds in the city and on the sand, assistance services for swimmers (with an eye to the needs of children). It is in fact fundamental that, in addition to having affordable prices, a location that is perfect for a holiday with children is also (and above all) safe. After all, mom and dad want this: to have the certainty that, in the unfortunate event something happens, there is someone ready to assist them. And that their children have a whole range of entertainment to make their holidays unforgettable.
But why should you choose the sea for a family holiday? In reality, there is no rule: there are those who love to swim and relax on the beach, and those who prefer to take long walks in the mountains. However, it is good to remember that the sea really does children well. The baths in salt water strengthen the skin and improve eczema and dermatitis, iodine acts as a natural aerosol by cleaning the respiratory tract and stimulating the immune system, walking with bare feet strengthens the musculature and improves balance, playing with sand exercises imagination, manual skill and fantasy. In short, bringing your children to the sea, they are given an extraordinary gift.
Looking at Northern Italy, among the most suitable seaside destinations for children one cannot fail to mention the Venetian Bibione. Why? Let's find out together.
What the Club Bibione Family Hotels are
In Veneto, on the border with Friuli Venezia-Giulia, Bibione is the perfect destination for a family vacation. Why? Because for the youngest ones, services and entertainment start from the hotel. Here, in fact, you can stay in the Club Bibione Family Hotels that – at first glance as in the soul – differ (a lot) from a traditional hotel.
These are child-friendly hotels, the Club Bibione Family Hotels. But they are also designed to give parents moments of relaxation, while experienced staff take care of their children. Because, at the base, there is a very precise conviction: the holiday period must be dedicated to leisure, and time (of quality) to be spent in the family. For this reason, Bibione has decided to offer a hospitality service that puts the family at its centre.
The hospitality of the Club Bibione Family Hotels, precisely, where the children are guests of honour and the services are five-star.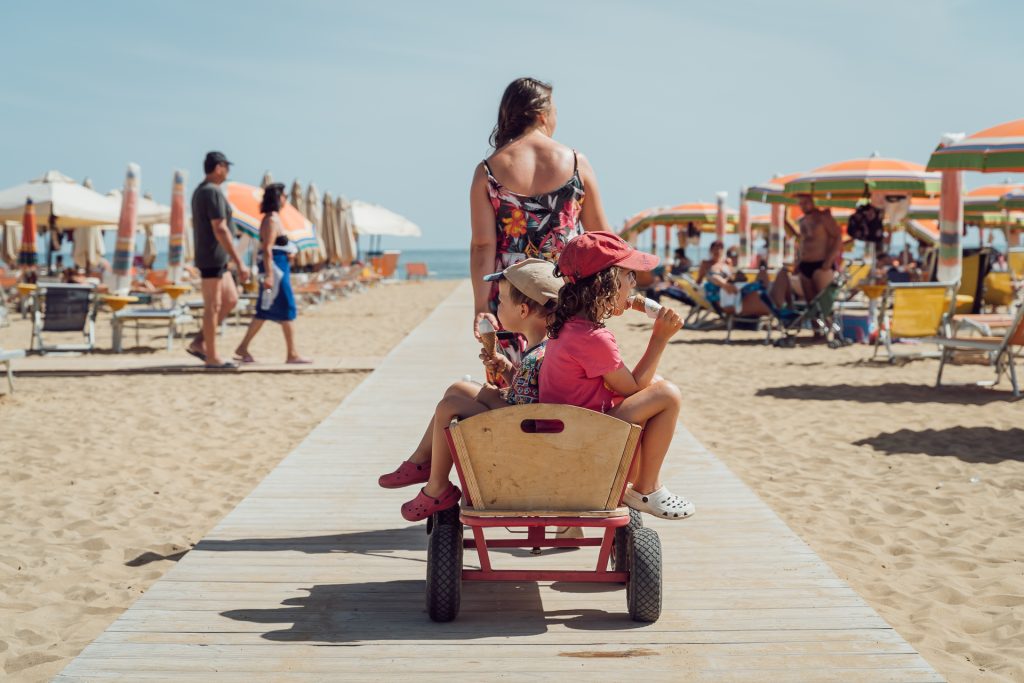 Which services do the Club Bibione Family Hotels offer?
You can recognize the Club Bibione Family Hotels them right away, thanks to the branded window sticker. But they reserve wonderful surprises inside: the children are welcomed with a welcome gift, the parents receive informative material with all the information to experience the town and its surroundings together with their children (in addition to the Bibione Family Card) and – both in common areas as in the room – there are a whole series of devices to give families a stay full of comfort.
There are cradles and small beds with edges, baby-changing tables and baby washing basins, bottle warmers, high chairs in dining room and baby seats to have a bike ride with mum and dad, ad hoc cutlery, plates and tablecloths for the little ones, children's menu and the possibility for chefs to prepare baby-food according to their parents' instructions. But not only: in the Club Bibione Family Hotels there are small libraries with fairy tales and comic books, equipped playgrounds, TV with children programs. There are paediatric assistance and laundry service for the little ones' clothes (both on request and for a fee), and there is a Mini Club service in the hotel or on the beach with a daily activity program. Because everything, from bedtime to meals up to entertainment, is child-friendly in these hotels.
What is the Bibione Family Card?
When you arrive at one of the Club Bibione Family Hotels, you will receive the Bibione Family Card. What is it? A super convenient free card, which entitles to special services, discounts and offers to families staying overnight at participating hotels.
The card is issued at check-in and can be used in it can be used in a multitude of exercises: it contains free admissions or special discounts in amusement parks, discounts and free meals for children in participating restaurants, offers on boat rental and swimming & co. lessons, discounts in clothing shops and for excursions. For an entertaining, and super convenient holiday.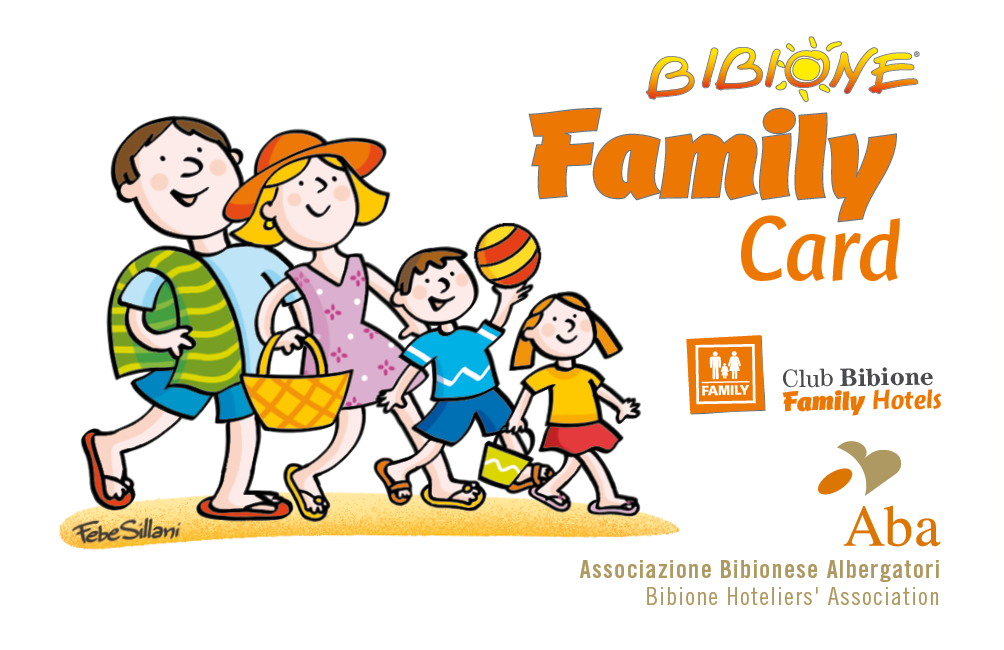 Bibione, a child-friendly destination
But it is not only the Club Bibione Family Hotels that make Bibione a child-friendly destination. There are many reasons why you should choose this Venetian town for your family holidays: there are theme parks (eight, between Bibione and its surroundings), there is the spa for children who suffer from allergies and respiratory problems, and there is the smoke-free beach full of playgrounds and animation activities.
And then the possibility to practice water sports and on the beach, the many paths for walks and bike rides. Because in Bibione the little ones never get bored, and mom and dad don't either.
All the Club Bibione Family Hotels
Are you wondering which the Club Bibione Family Hotels are? Here they are all:
Bibione Palace Suite Hotel****s
Hotel Principe****s
Hotel Ambassador****
Hotel Eden****
Hotel Excelsior****
Holiday Aparthotel****
Imperial Aparthotel****
Hotel Italy****
Hotel Luna****
Hotel Montecarlo****
Hotel Palace****
Princess Aparthotel****
Hotel Royal****
Hotel San Michele****
Hotel Alexander***s
Hotel Astoria***s
Hotel Concordia***s
Hotel Las Vegas***s
Hotel Mayer***s
Hotel Palma de Majorca***s
Aparthotel Ashanti***
Costa Rica Bibione Aparthotel***
Hotel Franz***
Hotel Kennedy***
Hotel Milano***
Hotel Nevada***
Residence Panorama***
Hotel Victoria***
Residence Serenissima
Bibione Villa Park