Are you thinking of holidays with children in Bibione? Certainly, it will be an unforgettable stay, dedicated to nature and fun. This Veneto seaside resort is in fact very popular with families with children and teenagers and there are many reasons.
Why spending holidays with children in Bibione
From the accessible coasts to the mini clubs with entertainment for all ages, from the public playing areas to a rich calendar of events, up to the many attractions in the nature and the spa with specific treatments for the well-being of the whole family: Bibione is becoming increasingly family friendly.
And what about the beach? This 8-kilometer-long sandy expanse has a gradual and shallow seabed, while the sea is so clean that it has been awarded with a total of 27 Blue Flags. The beach is equipped with many services dedicated to adults and children: after all, everything in this travel destination is designed to simplify the family vacation! In addition, the beach of Bibione has also received the Green Flag since 2016. This much-coveted certification attests that the beach is child-friendly.
In this pearl of the Adriatic, parents can therefore devote a little more time to relaxation without having to organize continually something to entertain their energetic creatures; children find facilities and qualified staff for a fun and memorable beach vacation.
These are just some of the ingredients that make Bibione an ideal travel destination for the whole family, but let's discover something more!
Where to have a holiday with children in Bibione?
There is no lack of accommodation facilities for a holiday with children in Bibione. Family hotel for a comfortable stay, clean and equipped campsites, holiday homes, residences and apartments for rent: there are many family-friendly facilities with many services for every type of holiday. It becomes so easy to be together: the older ones relax, while the little ones enjoy themselves like in a real tourist village for children.
The good news is that, regardless of the structure, the price of the stay always includes a place on the equipped beach, with sun umbrella, sun bed and deckchair.
Which services for families?
Families with children know how many things there are to organize and take on holiday. In Bibione, however, everything is easier. With the Bibione Family Card, you can access many facilitated services and discounts dedicated to families staying at participating Club Bibione Family Hotels. Welcome gifts, information material, medical assistance and menus in line with the mothers' instructions: these are just some of the precious services available!
Family friendly accommodations offer a vacation that pays attention to all needs with family rates based on age and many amenities, such as a mini club, entertainment, swimming pools for adults and children and equipped playing areas. Also available to families are bicycles with seats, bottle warmers, laundry for children's clothes, baby chairs, cots and cradles. Some structures also offer a stroller rental service.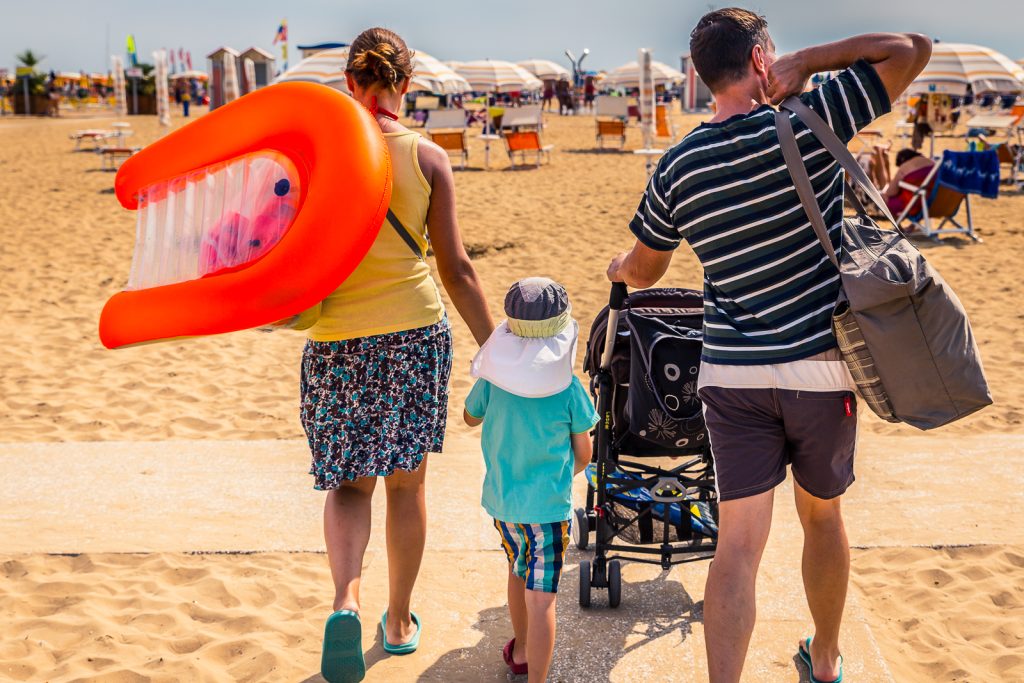 Even on the beach, there are many comforts for families. In fact, all summer there is a free Baby Club for children 3 to 5 years old and Mini Club (6-12 years) with lots of sporting activities, such as beach volleyball and swimming, board games and workshops. The beach is equipped with First Aid, defibrillation units, numerous rescue stations and a Customer Service with qualified assistance from hostesses and stewards simply by sending an SMS. In addition, the restaurants and pizzerias in Bibione have many menus specially designed for children.
What to do on holiday with children in Bibione?
A holiday in Bibione is synonymous with outdoor life and there are many things to do both on the beach and in the city. For those who love cycling routes, for example the ideal is the bike path that runs along the sea. With its 8 km without interruptions and without a car, it is perfect and safe even if your child has recently started cycling. There are also routes in the city and towards the lagoon, while in July and August the appointment is with the Bike Nights, evening group excursions by bicycle.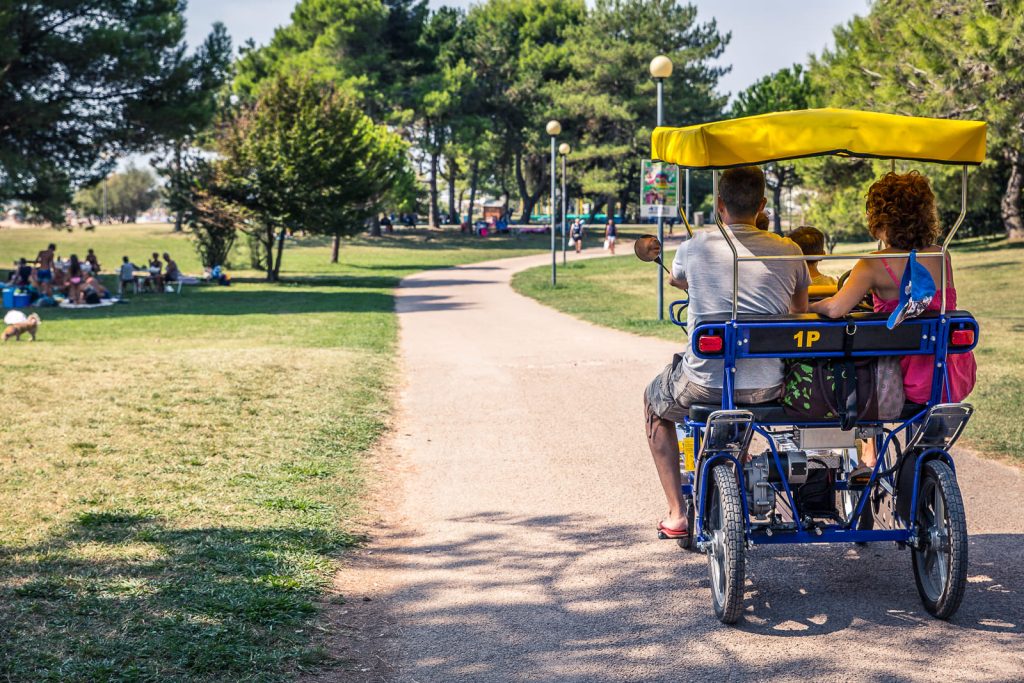 Bibione also offers many attractions for walkers. The nature of Valgrande gives beautiful landscapes between woods and lagoons as present. An excellent prospect to visit these places is also on horseback, with trained instructors who bring children closer to this exciting sport. For those who love the sea, however, in summer along the beach you can practice all kinds of water sports, from kayaking to windsurfing, to canoeing and diving.
From spring to autumn, then, there are many events in Bibione to attend with the whole family. Concerts, fireworks and sporting events such as, for example, Bibione Up in September with various physical activities for all ages. Do not forget also the unmissable "Village Geronimo Stilton & Friends", a new event of the rich summer in Bibione dedicated to nature, sustainability and respect for the environment. For the occasion, the beach across Via Regolo will be alived from 29th July to 4th August to entertain the little ones (and not only!) From 11 am to 9 pm every day. To complete this week of fun and learning, two evening events in Piazza Treviso.
Amusement parks Bibione
Do you want your children to enjoy unforgettable moments of leisure and great fun? Theme parks and amusement parks in Bibione and its surroundings are certainly among the most appreciated attractions!
The main ones are in Lignano Sabbiadoro, a few kilometers from Bibione. Here you can spend a beautiful day at the Aquasplash between slides and swimming pools or at the Parco Zoo Punta Verde where you can admire many animal species. In Jesolo, instead, you can launch yourself into the fun of the Caribe Bay (Aqualandia), elected several times as the best water park in Italy.
A visit to the vessel La Perla Nera in Bibione is also inevitable for a sea adventure with games and entertainment with Captain Mike Sparrow together with his crazy crew. A few steps from the entrance of Bibione you will find, instead, Rio Arcobaleno an amusement park with minigolf, trampolines and a go-kart track. The evening appointment is instead at the Luna Park Adriatico, with attractions for adults and children.
Bibione thermal stay for children
Among the flagships of Bibione, we find in the very heart of the city also a thermal centre affiliated with the National Health Service. Here you can both relax between wellness and Spa and book medical treatments with a prescription. Are you wondering if your child can also enter? Certainly, starting from 3 years of age. An entire area is dedicated to pediatric spa, where rhinitis and ear infections are treated with cycles of aerosols and inhalation treatments. Fun and games are not lacking even here, because everything in Bibione is designed to entertain the little ones!