Bibione is the perfect location for those looking for a beach holiday between sun, relaxation and outdoor life. Do you want to know why? Clean waters, lush nature, a long beach where to walk and play sports, but also many services for travelers of all ages: these are just some of the ingredients that can conquer you about Bibione! Without forgetting that this destination overlooking the Adriatic also offers lots of fun and entertainment, not just in summer. The calendar of events in Bibione in 2019 is indeed full of sporting, cultural, food-and-wine events, and then again unmissable concerts and moments for the whole family.
Let's discover together what to do in Bibione during the holiday, which are the main unmissable appointments and the most interesting attractions. In particular, we concentrate on:
Bibione 2019 events for a 360° entertainment
• Events month by month
• Beach Fitness and Bibione Up
• Charity events in Bibione
• Events in the surroundings
Bibione 2019 events for a 360° entertainment
The thing about Bibione is that this place really has a thousand faces! Precisely for this reason, the events and experiences that are organized meet all the needs: from those for the youngest ones, for families with children, for couples and for the most mature public.
Do you love nature and do you like sports? In Bibione, you are spoiled for choice between walks, excursions and running races to discover the most hidden corners of the territory. There are events related to fitness and wellness, Beach Volley tournaments (also Junior) where you can participate with your friends and half marathons for the most trained.
If instead your passion is to discover the flavours of the territory, you can participate in events in Bibione dedicated to good food. Finally, for art and music lovers there are also concerts by great artists, fashion shows, summer performances, theater and dance.
You have just to discover month by month which the main events are, so that you can best organize your holiday in Bibione.
Bibione Events month by month
And here we are with the unmissable appointment in 2019.
Events April Bibione 2019: a spring full of activities
Organ Competition Rino Benedet (21st-25th April) an organ exhibition for young performers.
• Festa dell'Asparago di Bibione (24th-25th April), dedicated to gastronomy lovers. Moreover, Bibione is the Italian capital of white asparagus, so what better time to taste this vegetable?
• BeachVolley Junior (24th-25th April) a sport experience for the youngest ones and for he volleyball associations on the territory.
• A piedi per Bibione (26th-28th April): free walking race suitable for both families with small children and sportsmen.
• Beach Ultimate FRISBEE® Beach Challenge (27th-28th April): a team sport that animates the beach of Bibione with acrobatics, Frisbee and extreme competition!
Events May Bibione 2019: sports and open-air activities
Half Marathon (12th May) an international half marathon with a 21 km competitive route that attracts a growing number of participants.
• Bibione Volkswagen TriO Series (18th-19th May) exciting Triathlon races sponsored by Santini Cycling Wear.
• Mizuno Beach Volley Marathon (24th-26th May): more than 10 thousand athletes divided into 2500 teams that meet on the beach of Bibione for a weekend in the sign of sports.
Events June-July-August-September Bibione 2019: concerts, shows and sports
BeachVolley Junior (30th June-5th July) the second stage of this youth event dedicated to volleyball.
• Una luce sul mare (30th June / 21st July / 19th August): an original celebration of the Holy Mass on the beach with a Gospel choir.
• Bike nights (every Tuesday from 2nd July to 27th August): evening cycling tours from Pineda to the Lightouse, with gastronomic attractions and entertainment.
• J-AX + ARTICOLO 31 on concert (20th July)
• Festival show (8th August): the usual touring concert organized by Radio Birikina and Radio Bellla & Monella with famous guests and emerging artists.
• Fireworks Bibione (15th August): a worderful fireworks display.
• Bibione Run (8th September): athletes coming from all over Europe meet for one of the most awaited events for running lovers.
• Septemberfest Bibione (11th-12th September 2019): exhibition dedicated to flavours and to tradition.
• Wilier Bibione Bike Trophy (22nd September): 6-hour cycling competition for mountain bikes.
• Mizuno Beach Volley Marathon (20th-22nd September): second stage of the most exciting beach volleyball competition in the world.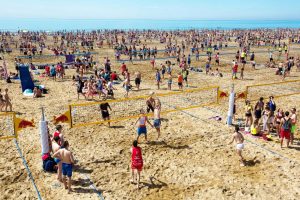 Bibione Beach Fitness and Bibione Up
Among the most anticipated events of the whole season we also find Bibione Up (16th-20th September), a week entirely dedicated to sport and physical activity. These are the last days of summer, but no sadness! Indeed, Bibione becomes a real open-air gym where you can train, regenerate your mind and regain your well-being by sculpting your body.
The energy is palpable waiting for Bibione Beach Fitness (20th-22nd September) held over the weekend. What are we talking about? Of the largest Italian gathering dedicated to fitness and wellness with 14 thematic stages on the beach, 250 hours of fun activities, many disciplines and 200 professionals from the Italian and international scene as coaches. You can't miss the final party with Radio Deejay! Ultimately, a weekend dedicated to young people, families with teenagers and children, but also to the many onlookers attracted by this great end-of-summer event in Bibione.
Charity event in Bibione
In this beautiful place on the Adriatic, sporting events also have a beneficial purpose. This is the case of Bibione in rosa, a solidarity race with two routes (6 km and 9 km) held on Saturday, 7th September 2019. This charity event in Bibione is among the most important of the whole year and involves fans of running and, of course, the many sports and non-women. The proceeds are donated to associations that offer medical and psychological support to patients who have experienced cancer treatments.
On 15th September instead the Pedalata per la vita (cycling for life) whose proceeds will be given to the National League of Cystic Fibrosis.
Bibione: events in the surroundings
As you can see, Bibione is waiting for you with a rich program of events for most of the months of the year. But the summer offers interesting events also in the surrounding area.
In nearby Portogruaro events and shows attract a large number of visitors and the same is true for San Daniele del Friuli where in June from 21st to 24th the Festa del Prosciutto DOP is held. Even the events of Villa Manin in Codroipo offer beautiful emotions in a historic and impressive setting.
What are you waiting for? Book now your stay in Bibione and do not miss some of the most engaging events of the year!