In Italy we are ready to run again! The calendar of Italian marathons is repopulated with events and even more and more participants!
After two years in which the calendar of sporting events was marked by uncertainties and cancellations, 2022 finally marks the return to normality. The desire to return to running is strong and for marathon runners the foot races represent an opportunity to combine sport with the beautiful landscapes of the Italian peninsula. If on the one hand those who participate love to run and test themselves, on the other hand there is no doubt that these races can be an opportunity to visit new and interesting places.
Let's see, then, where the Italian marathons and Italian half marathons of 2022 approved by the Italian Athletics Federation (Fidal) will be held, but first let's take a look at one race in particular, now in its third edition this year: Bibione Half Marathon 2022.
Bibione Half Marathon 2022
Among the many Italian marathons and half-marathons planned this year, there is one that should not be missed, namely the Bibione Half Marathon, which takes place on Sunday 8th May 2022 and is organized by Running Factory A.S.D.
The national race will take place on paved and unpaved roads, which are always closed to the traffic, for a total of 21,097 kilometers. The departure and arrival point is in Piazzale Zenith. The start of the official race is scheduled for Sunday, 8th May at 9 am, but already the day before, races for children and the establishment of a pavillon "village" dedicated to this event are planned.
To know everything there is to know about the competition, we refer you to our article dedicated to the 2022 Bibione Half Marathon, but we remind you that the registrations open since the 1st January 2022 for the race will close on Thursday, 6th May at 10 pm.
Also, if you are passionate about marathons, but not necessarily the running type, still in Bibione from the 13th to 15th May and from 16th to 18th September 2022, the Mizuno Beach Volley Marathon, the big international tournament for beach volleyball, is played out: another inevitable date for sports and sea lovers.
If you are looking for an accommodation during the Bibione Half Marathon, you can book it directly on our website or find out what special offers are offered by ABA Viaggi only to the participants.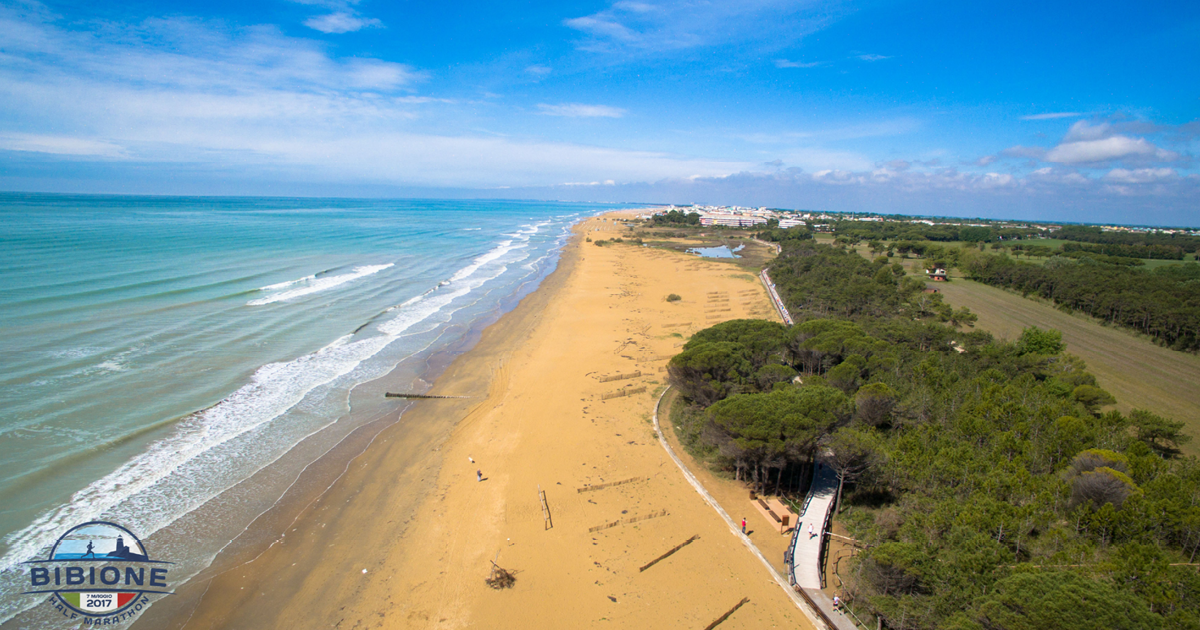 The Calendar of the 2022 Italian Marathons
Those who want to try their hand at a real marathon will be spoiled for choice in 2022:
January
23th January: Ragusa Marathon
February
6th February: San Valentino Marathon in Terni; Maga Circe Marathon in San Felice Circeo
20th February: White Marble Marathon a Massa Carrara
27th February: "Sojasun Verdi Marathon" in Salsomaggiore
March
6th March: Bologna Marathon
13th March: Brescia Art Marathon; Strasimeno Marathon in Castiglione del Lago
20th March: Rimini Marathon
27th March: "Antonello da Messina" Marathon in Messina; Treviso Marathon; Run Rome The Marathon
April
3rd April: Milano Marathon; Maratona del Lamone
18th April: Crevalcore Marathon
24th April: Padua Marathon
May
1st May: "Del Riso…La Maratona" in Santhià
8th May: Marathon of Cathedrals in Giovinazzo; ColleMar-athon in Fano
June
July
2nd July: Primiero Dolomiti Marathon
August
September
11th September: Alzheimer Marathon in Cesenatico
25th September: Ferraramarathon
October
2nd October: Mytho Marathon in Palmanova
16th October: Parma Marathon
23rd October: Neapolis Marathon; Venice Marathon
30th October: Marathon of Grecìa Salentina in Calimera
November
6th November: Paestum Marathon; Lago Maggiore Marathon a Verbania
13th November: Ravenna Art City Marathon; T-FAST 42K Torino Marathon
20th November: Verona Marathon; Palermo Marathon
27th November: Florence Marathon
Dicember
4th December: City of Trino Marathon
11th December: Catania Marathon; Reggio Emilia Marathon
18th December: Cetilar Pisa Marathon
The Italian Half Marathons of the Year
Those who prefer to undergo a less demanding but equally exciting race like a marathon will find below, day after day, all Italian Half Marathons that will be held in 2022:
January
6th January: Half Marathon on Brembo Dalmine
9th January: Memorial Salvatore Aliberti in Santa Teresa di Riva
16th January: Terni Half Marathon
23rd January: StraRagusa
30th January: Novara Half Marathon; Bergamo21 – Half Marathon; Maratonina dello Jonio in Gallipoli
February
6th February: Mezza Maratona delle Due Perle in Protofino; Volkswagen Barletta Half Marathon; Mezza Maratona di San Valentino in Terni
13th February: Giulietta e Romeo Half Marathon in Verona; Rovigo in Love; Maratonina dei Nebrodi in Sant'Agata di Militello
20th February: World Running Academy Half Marathon in Carrara; Mezza Maratona del Castello in Vittuone
27th February: Half Marathon in Trecate; Maratonina in Treviglio; Verdi Marathon in Salsomaggiore Terme; Napoli City Half Marathon
March
6th March: City Lecco Half Marathon; Mezza Maratona del Giudicato in Oristano; Mezza Maratona della Concordia Città di Agrigento; Maratonina Comune di Brugnera – Alto Livenza; DERTHONA Mezza Maratona – Tortona; Roma Ostia Half Marathon; Mezza dei due laghi in Gravellona Toce
13th March: Maratonina delle 4 Porte in Pieve di Cento; Brescia Half Marathon; Stracivitanova a Civitanova Marche; Strasimeno Half Marathon in Castiglione del Lago; Mare&Sale Half Marathon in Margherita di Savoia
20th March: Maratonina Città di Pistoia; Mezza Maratona Città di Enna; Stramilano Half Marathon in Milan; Maratonina della Vittoria in Vittorio Veneto
27th March: Bossoni Half Marathon in Orzinuovi; Mezza del Marchesato e dei Frutti in Fiore in Saluzzo; "Eufemio da Messina" Half Marathon; La mezza di Torino; Half Marathon in Vigevano; La 21 di Reggio in Reggio Emilia; Savona Half Marathon; Under Armour Mezza Maratona Lago di Caldaro
April
3rd April: Agropoli Half Marathon; Dogi's Half Marathon a Dolo; Omphalos Halfmarathon a Mondolfo
10th April: Milano & Monza Run Free – Mezza di Monza; Prato Half Marathon; La 100 di Montagnana – 21k; Mezza Maratona dei Fiori in San Benedetto del Tronto; Half Marathon "La Mezza del Metauro" in Fossombrone; International Half Marathon in Genua
18th April: Maratonina in Crevalcore
24th April: La Mezza di Egnazia in Savelletri – Fasano; Conero Running in Numana; Ganten Chia21 Half Marathon; Padova Half Marathon; Maratonina del vino in Marsala
May
1st May: Mezza del Santo in San Giovanni Rotondo; Half Marathon Merano – Algund; Del Riso…La Maratona" in Santhià; Mezza Maratona dei 3 Comuni in Lacchiarella
8th May: Maratona delle Cattedrali in Giovinazzo; Placentia Half Marathon in Piacenza; Half Marathon; Bibione Half Marathon; Maratonina in Terrasini
15th May: La Mezza della Baia del Sole in Alassio; Teroldego Event (Half Marathon) in Roverè della Luna; Lago Maggiore Half Marathon in Verbania; Taranto nel Cuore Half Marathon; Latina Half Marathon
22nd May: Jesolo Moonlight Half Marathon; Bari Med Marathon; Strataranto Half Marathon del Mediterraneo in Taranto; Mezza Maratona del Naviglio in Cernusco sul Naviglio
29th May: Maratonina Dei Laghi on Bellaria-Igea Marina
June
2nd June: Maratonina Città di Scorzè
11th June: Night Lecco Half Marathon
July
August
September
11th September: Alzheimer Half Marathon in Cesenatico; Parma Half Marathon; Tune Up Bologna
18th September: Mezza Maratona del Piceno Fermano in Porto San Giorgio; Maratonina Città di Udine; La Mezza di Sesto e del Parco Nord in Sesto San Giovanni
25th September: La Mezza di Borgo Valbelluna; Portogruaro Half Marathon; Maratonina dei Borghi Città di Pordenone; Tranincorsa; Ferrara Half Marathon; Corripavia Half Marathon in Pavia
October
2nd October: Aosta 21K – La Mezza delle Alpi; Maratona Città di Forlì; Hipporun Half Marathon in Vinovo; Andersen Run La mezza tra le Baie in Sestri Levante; Telesia Half Marathon in Telese Terme; Half Marathon; Trento Half Marathon; Maratonina Perla del Tirreno in Cefalù
9th October: Pisa Half Marathon; Io21Zero97 "La Bella Corsa" in Darfo Boario Terme; Mezza di Romagna in Predappio and Forlì; La Mezza di Treviso; Pantano Half Marathon in Pignola; Varese City Run; Maratona della Ceramica "Città di Assemini"
9th October: Torino Half Marathon —T-FAST 21K
16th October: Mezza Maratona d'Autunno in Novi Ligure; Palermo Half Marathon; Maratona in Cremona
23rd October: Strasalerno Half Marathon in Salerno; Mezza Maratona Città di Ancona; La Mezza dei Borghi Pollineani in Castrovillari; RunRivieraRun Half Marathon in Finale Ligure; Neapolis Half Marathon in Napoli; Ascoli Half Marathon; Maratona città di Vercelli; Laus Half Marathon in Lodi; Bari21 Half Marathon; Maratonina Città di Arezzo; Blu Ionio in Riposto
November
6th November: Paestum Half Marathon; Lago Maggiore Marathon in Verbania; Maratonina di San Biagio in San Biagio di Callalta
13th November: Maratonina del Golfo in Gela; Maratonina Città di Uta; Rome 21k; Garda Trentino Half Marathon in Riva del Garda; Maratonina Città di Busto Arsizio; Ravenna Half Marathon; Livorno Half Marathon; Maratonina Città di Crema
20th November: Cangrande Half Marathon in Verona; Palermo Half Marathon; International Half Marathon "Città di Caserta" called "Reggia Reggia"
27th November: "Città di Palmanova" Half Marathon; Padenghe Half Marathon; StraVicenza 21 Half Marathon; Ganten Milano21 Half Marathon
December
4th December: Prosecco Run in Vidor; International Half Marathon "Città di Cagliari"; Maratonina Terre d'Acqua Città di Trino; Half Marathon Città di Monopoli
11th December: Salento Half Marathon in Collepasso; Half Marathon "Città di Olbia"; Corsa dell'Amicizia – Half Marathon in Eboli
18th December: Invernalissima Bastia Umbra; Half Marathon Arancia di Ribera D.O.P.; Maratonina della Città Murata in Cittadella
Source: www.fidal.it