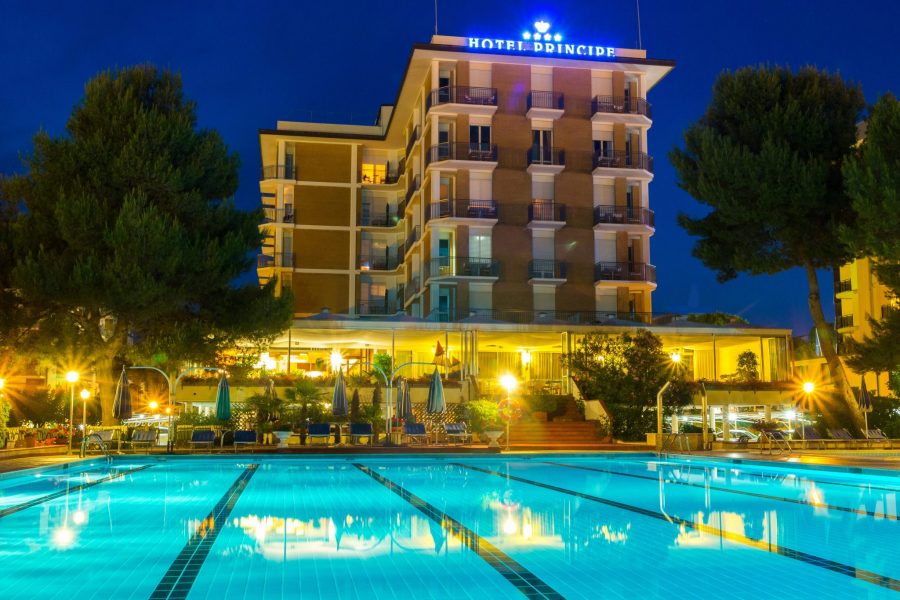 HOTEL PRINCIPE 
It was brothers Giancarlo and Ferdinando Dotto who inaugurated Hotel Principe, a seafront establishment, back in June 1963.
Since then, the Dotto family has hosted international customers with that same genuine passion with which they choose the hotel for its special atmosphere and the personal attention devoted by the staff to its guests. Breathe in the polished furnishings, the high-end Venetian antiques, collected over the years by the founders, as well as the refined and elegant layout in the dining room, set out with cutlery and silverware alongside spectacular cloches.
The dining room, decorated with Venetian tapestries, houses a collection of vintage, handmade boats and fishing vessels, adding further Venetian vibes.
The rooms, all with balconies, flaunt the latest amenities and feature a yellow, blue and green colours. The bathrooms are draped in blue tile while the housekeeping service is carried out twice a day for maximum comfort and cleanliness.
The terrace overlooks the private flower garden and swimming pools, where guests get a stellar breakfast with a base of fresh fruit smoothies and organic specialties, as well as a lunch buffet with hot dishes and Mediterranean salads, representing Italian cuisine and regional flavours.
The private beach with umbrellas and sun beds, a tennis court and the organization of themed tours to discover stunning wine trails all round out the hotel's offerings in Italian style.
The Hotel Principe is located just a short walk from the renowned Bibione hot springs. The common areas, indoors and outdoors, and the rooms are accessible to customers with disabilities. The hotel belongs to the Terme, Walking and Pet Club Bibione Hotels.
See more at www.principehotel.it