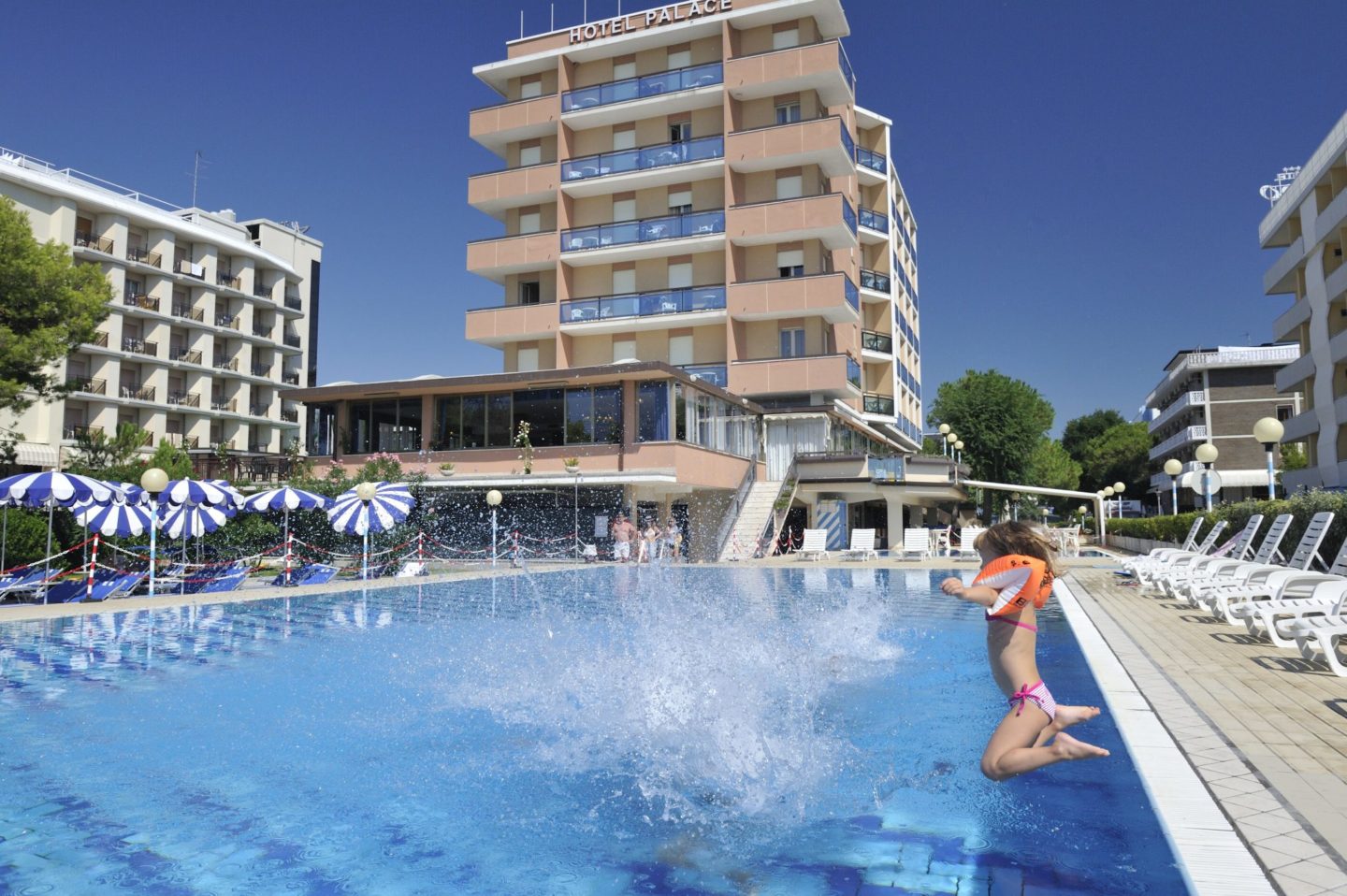 HOTEL PALACE
Rooms with large terraces overlooking the sea. A large park with small seating areas to enjoy the cool air beneath the trees on comfortable chaise lounges. A beach for guests with umbrellas, deck chairs and booths. The Bibione hot springs, just a few steps from the hotel, are there to enjoy short breaks for well-being and beauty. There's also the agreement with the Lignano Golf Club for intense and exclusive afternoons. Plus, we have all that is needed for children's fun, from entertainment to dedicated play areas … Could this be the perfect vacation? It's waiting for you at the Hotel Palace …
Dedicated to those who love well-being and relaxation, the Hotel Palace provides its guests with a peaceful and pleasant atmosphere, offering all the comforts of a four-star hotel, but at the same time proposes a heartfelt and warm welcome. The hotel offers the convenience of being close to the thermal baths and, as a member of the "Bibione Spa Hotels" Product clubs, it offers a profitable discount on stays for spa treatments.
And for families? For them the Palace Hotel reserves its warmest welcome with 20 family rooms with large and adjoining suites, excellent cuisine which also caters to food intolerances, entertainment, play areas within the hotel and in the large garden adjacent to the pool area, along with plenty of bikes available and all the facilities required for a family vacation!
Find out more at www.hotelpalace-bibione.it
1 review
Place, beach service, cleaning, swimming pool (separate for the children), free bicycles, trees in the garden, kindness of the staff, etc. We were very satisfied with the Hotel during the week spent there. On Thursday the show of the boss as a "matador" was great.
WiFi is available only at the lobby, not in the room. Few TV channels in the room, only CNN in english, no cartoon channel for the children