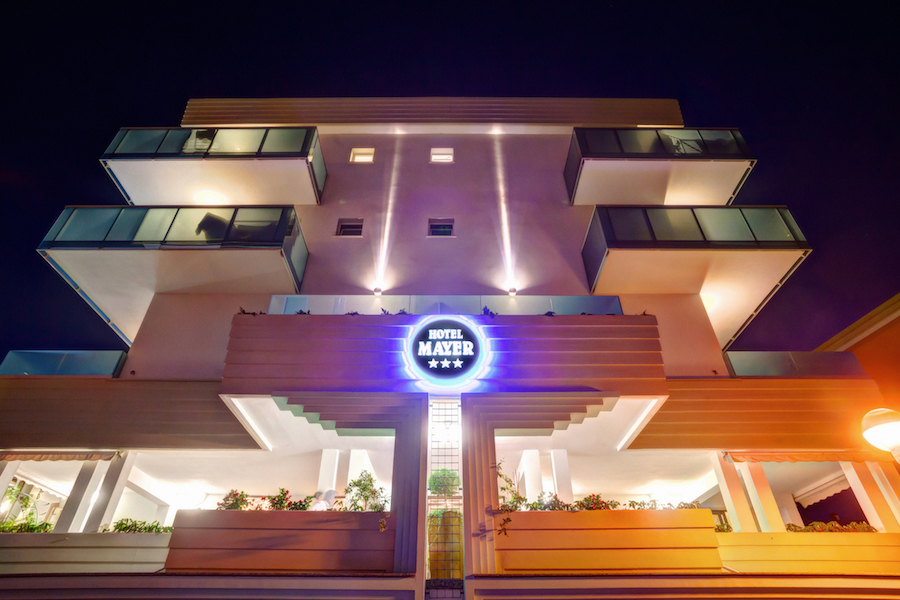 HOTEL MAYER
"There are many ways to describe a hotel and services offered. We could tell you how we have restored our 60 rooms, with new furnishings and accessories to make them even more welcoming and comfortable, the new wellness area with sauna, Turkish bath and relaxation area.
Or about the careful attention we give to our cuisine, offering healthy and authentic dishes, prepared with fresh seasonal products, where we keep a special eye on catering for small guests as well as those who suffer from food allergies and intolerances.
We could talk about the fact that the location of our hotel is strategical, that it is in a quiet area but very close to the pedestrian centre that is home to fashionable shops and bars and the stunning pedestrian walkway leading to the Lighthouse and the lush nature surrounding it.
Or about how you can explore the surrounding nature by choosing between bicycles or nordic walking sticks at your disposal free-of-charge.
About walking to the wonderful, equipped beach with its bathing facilities, and the fact that we offer so many services, such as free entertainment for adults and children on the Zenith square, and the opportunity to try out many sport activities thanks to the Sport Village.
Or the fact that children have their own special spaces, thanks to their play areas and pool, the thought of relaxing by the pool, in the solarium that also has a hot tub with heated water. About how our hotel is completely free from architectural barriers and how your 4-legged friends are welcome in our hotel and how you can enjoy the beach life with serenity thanks to the proximity to Pluto Beach.
But more than anything we are passionate about the idea of reassuring you of our hospitality philosophy, of  our complete accessibility to our customers, with whom we often establish a genuine relationship of friendship, in search of solutions and services that can make a vacation not only pleasant, but fully satisfying. That's because we love our work, we love being hoteliers and we love being ever present. "
The Scolaro Family
Find out more on our website: www.hotelmayer.com