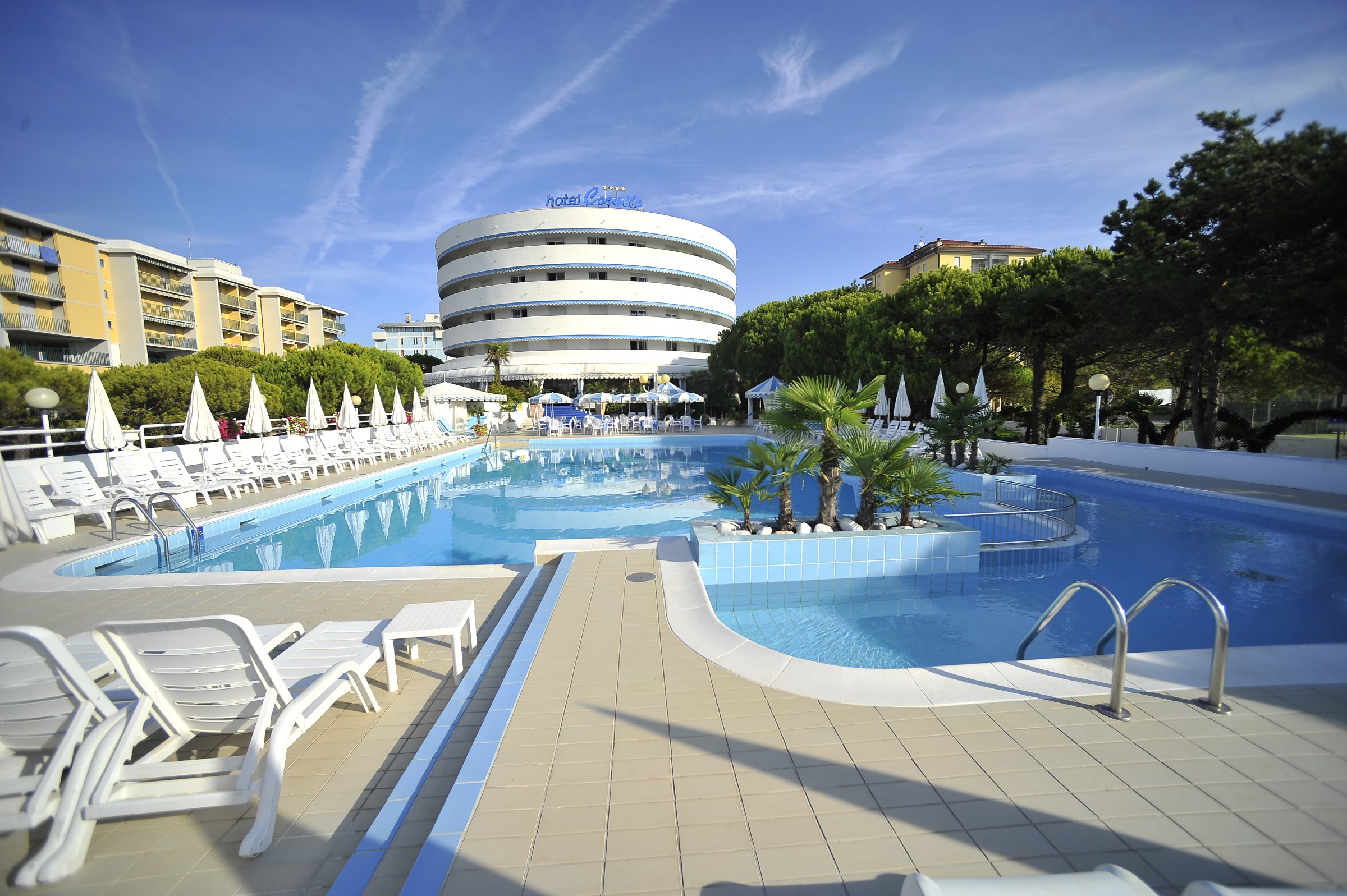 HOTEL CORALLO
Oscar Wilde once said "I have the simplest tastes. I am always satisfied with the best." This is exactly what Hotel Corallo offers its guests: the best service combined with an easy-going hospitality which ensures that nothing is left to chance.
Overlooking the sea, it sits in the heart of a shopping centre and is 500 metres from the Thermae and hot springs.
Hotel Corallo is designed in a natural and modern aesthetic, born from the creative spirit of the architect Rafin, inspired by the white and fluffy meringue cakes made by the owner, Ms Giannamaria. Towards the end of the 50s, when Bibione was an immense beach of dunes surrounded by woods of black pines and holly oaks, where fox hunting excursions were organised, and the adventures of the first pioneers began.
Thanks to its circular shape, the hotel is right on the beach, allowing you to admire our marvellous sandy shore and the deep blue sea from each of our fully refurbished 80 rooms. They're characterised by refined upholstery, by intimate and relaxing furniture tones, by the bathrooms, furnished with traditional materials that blend perfectly with the rooms, and equipped with all modern comforts.
The first-class cuisine offers fresh and made-to-order meals, prepared with seasonal products, and also accommodates the needs of younger children.
The suites are always decorated with vases of fresh flowers, other amenities include a bright and refined dining room, a panoramic view of the sea from a terraced room where you can savour cakes and homemade cookies, a wonderful flowering garden that surrounds the solarium, swimming pools and two tennis courts.
Free private parking is available to our guests, as well as a private beach with sun parasols, sun beds and safe, unlimited internet access, city bike services and Nordic Walking poles.
Hotel Corallo is an ideal place where you can have a charming holiday in the heart of Bibione.
Find out more at www.hotelcorallobibione.it