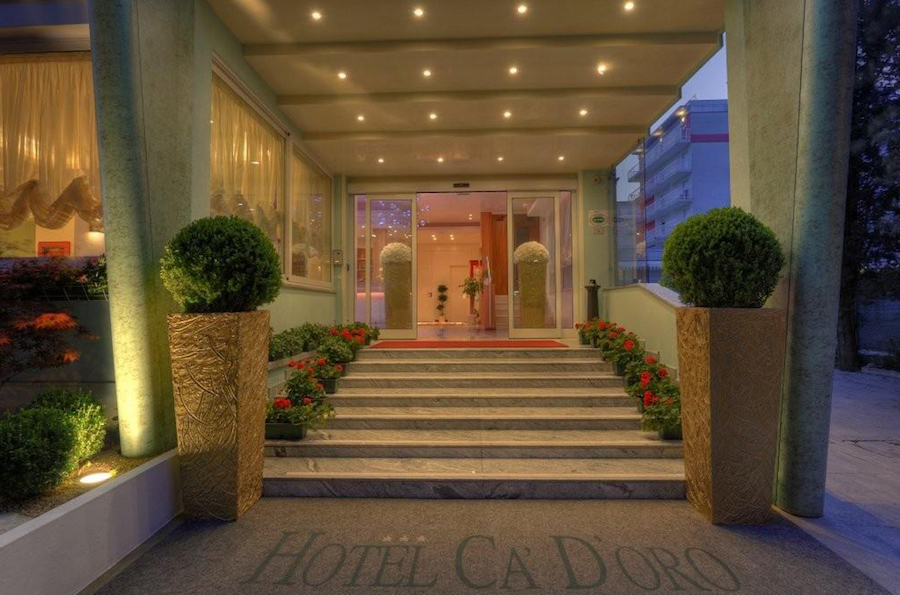 HOTEL CA' D'ORO
Staying at the Hotel Ca 'd'Oro is like living in the wonderful Venetian paintings of the eighteenth century. The living rooms have Murano glass chandeliers and sleek sofas with elegant, sophisticated brocade fabrics.  Warm floral wallpaper alternates with large bright windows and golden mirrors reflecting enchanting glass jars with scented flower falls.
Whilst there are no suggestive canals surrounding the hotel, there is a gorgeous golden sandy beach to enjoy. There's a private beach reserved for the hotel, with umbrellas, sunbeds and bathing facilities. There is also an inviting kind of nature to be discovered on foot or by bicycle, and a lively and welcoming town, which is also home to a renowned spa resort where you can spend hours relaxing in the saunas, Turkish baths and with aesthetic treatments.
Hotel Ca 'D'Oro has 47 bright and spacious rooms equipped with all the necessary comforts. There is also 1 beautiful junior suite of 36 square metres with en suite bathroom with a Hammam shower cabin, ideal for two people. The flagship of the hotel is represented by careful and healthy cuisine, ideal for guests with problems of food intolerance. Dinner is often characterised by genuine gala evenings where you can enjoy great fish and meat dishes, accompanied by valuable wine labels from renowned Venetian cellars. There is also a beautiful heated pool with mosaic decor, water features and a hot tub, a furnished solarium with sun loungers and chairs to enjoy a sunset drink, as well as free Wi-Fi. The hotel is partnered with Spa and Golf Product Clubs.
Find out more on our website: www.hotelcadoro.com