From Monday, the 10th until Friday, the 14th September in our seaside resort there will be "Bibione Up", 5 days of activities for the wellbeing of body and mind, which will culminate with the Beach Fitness weekend, from 14th to 16th September.
For the first time it will be possible, in the last days of summer, sculpting your body and regenerating your spirit in a real open-air gym, in 4 specific routes:
Bibione Olistic Up – Bibione Thermae, related to holistic disciplines
Bibione Fit Up – Piazza Fontana, fitness on the streets of Bibione
Bibione Pop Up – Beach in front of Bibione Thermae, the activities dedicated to the youngest ones
Bibione Step Up – Piazza Treviso, Piazza Treviso, evening activities on the squares
For over fifty hours of new activities.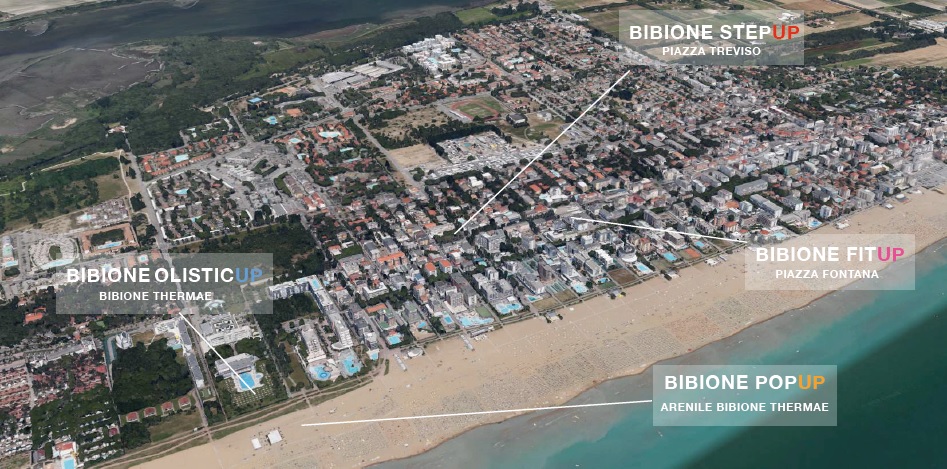 The event is promoted by the Consorzio di Promozione Turistica – Bibione Live to increase the offer of sport and wellbeing on our coastline. For those who will stay in one of Bibione's accommodation facilities, access to activities will be free of charge after issuing the special stamped postcard; In addition, the same will entitle people to purchase the "entire weekend" ticket of the Beach Fitness with a promotional rate.
But it does not end here: on Wednesday, the 12th and Thursday, the 13th in fact there will also be the Septemberfest, the famous food-and-wine event that takes place in Piazzale Zenith and closes the season. The holiday package offered so it is just complete and experiential!
Here you'll find the complete program and all the involved disciplines.
Do you want to enjoy the last remnants of summer and sea before returning to work, but you cannot renounce your physical and mental wellbeing? Bibione is the real place for you!