Balkan music arrives in Bibione: on Wednesday, 3rd July Goran Bregovic will perform on concert on the stage set up on the beach in front of Piazzale Zenith, in the frame of Bibione Beach Live 2019!
The concert, with free entrance, will begin at 8 pm with the performance of May Day 28, a well-known rock soul group in our seaside resort. Born on 28th May 2016 (hence the name of the band), the group offers the public a mix of rock and blues sounds and successes from the 1950s to the present day, led by charismatic front girl Sara Serodine.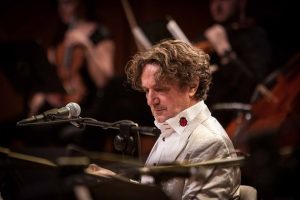 The highlight of the evening will be the performance by Goran Bregovic, accompanied by his "Wedding and Funeral Band". Contemporary composer coming from Sarajevo, traditional musician, rock star; these are the faces of the icon of Balkan music, who has become famous in the world for a very varied art that combines different styles and techniques in a universal music but at the same time only his. Multi-instrumentalist, in over forty years of career he has composed 30 movie soundtracks and released 20 albums. In 2019, he will tour his latest album, "Three Letters from Sarajevo", but also his greatest hits and soundtracks.
The event, organized by Zenit srl in collaboration with the Municipality of San Michele al Tagliamento and Bibione, belongs to Bibione Beach Live 2019, a calendar of events on our seaside resort between the months of June and July. Within this frame, there will be the performances of Bregovic and also:
For further information: Azalea.it
And to enjoy these great concerts, our hotels will be ready to welcome you, before and after, even late at night. Would you like to know more? Contact us: we will try the best solution for you, to let you spend a few days, or just one day, in the name of live music, the sun and the sea; the summer to the rhythm of music in Bibione passes right here!