On Sunday, 28th April 2019 at 9 am begins the already characteristic spring non-competitive walk in Bibione "A piedi per Bibione", a meeting dedicated to all those (individuals, groups and families) who want to rediscovery the territory of this tourist resort through various routes.
In the same frame it will be possible on Friday, 26th and Saturday, 27th April to explore the permanent paths of 6-11-16-24 km with 6 refreshment points from 8 am to 5 pm; the first path of 6 km is entirely on asphalted terrain or porphyry and is suitable also for strollers and disabled people.
The events, which have become international, will take place with any weather condition. The participation is upon payment.
During the days of the event, there will be local typical food and wine stands and live music inside the festivities area set up in Piazza Mercato in Bibione, starting point for all routes, near the Luna Park. The stands will be open on 26th, 27th and 28th April both for lunch, from 12 to 2:30 pm, and for dinner, from 6 pm.
Here is the detailed program:
Friday, 26th and Saturday, 27th April:

8 am-5 pm – open and assisted permanent paths with 6 refreshment points (please pick up the ticket at the festivities area)

Saturday, 27th April:

8 pm – Holy Mass of the Walker at the Parish Church "Santa Maria Assunta" (Via Antares 20)
8:45 pm – "Lucciolata" along the streets of Bibione: non-competitive walk of 2 km with candles and lanterns. Starting points will be the Church Square and the festivities area. The whole proceeds will be donated to the House

"Via di Natale"

of the Oncological Reference Centre of Aviano (PN)
9:30 pm – Flags ceremony: presentation of flags and hymns of the participating nations to the walk at the festivities area.

Sunday, 28th April:
For info and registrations:
Website: www.apiediperbibione.it
Facebook: Gruppo Marciatori Bibione
mobile +39 338 1600953
E-mail: marciatori.bibione@gmail.com
Would you like to spend a weekend at the sea in spring and you don't know where to stay? Contact us, you can enjoy special rates at the hotels expressly for the occasion, from € 28 per person per night with breakfast:
Booking Centre of Bibione Hoteliers' Association
Corso del Sole, 2 – 30028 Bibione (VE)
Telefono (+39) 0431 430101 / 447052
e-mail href="mailto:rossella@abaviaggi.it">rossella@abaviaggi.it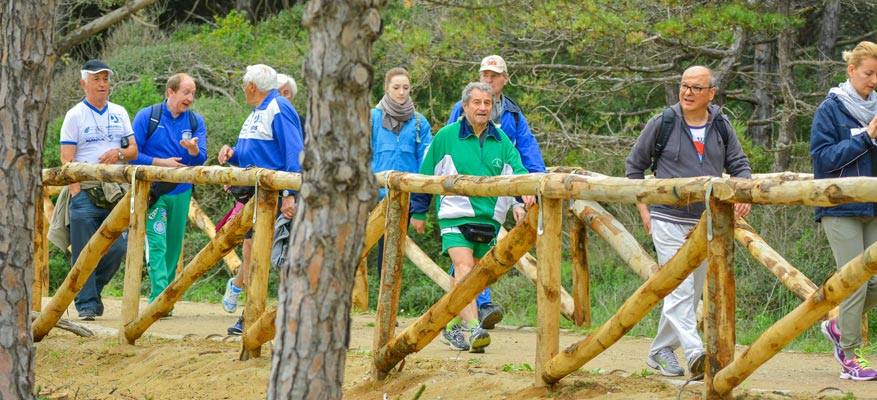 Photo Credit: Gruppo Marciatori Bibione