If you are looking for a family-friendly seaside resort, you can only organize your holidays in Bibione. Here, in this corner of Veneto that borders with Friuli Venezia Giulia, on a coastline that – eight kilometres long – was the first in Italy to ban cigarettes, families with more or less small children find services dedicated to them. And, waiting for them, a whole series of activities.
Why is Bibione family-friendly?
Because so many are the Club Bibione Family Hotels in the city, with spacious rooms and services such as cradles, baby-bottle warmers, changing tables, beds with edges, strollers, bicycles with helmets and seats, dedicated menus, entertainment, mini and baby clubs, heated pools and green areas to play in
Because the beaches host to nurseries and playing areas, free entertainment, first-aid stations equipped (also) for dermatological consultations, a rescue service at sea, child-friendly areas such as the Bimbo Village and sections for families like A new place at Sun
Because in Bibione there are several theme parks, from the Luna Park to the playgrounds and – moving slightly – the water parks and the zoo with over 1000 animals
Because at the city spa it is possible to treat children who suffer from allergies and respiratory problems, thanks to a cutting-edge paediatric ward
And if you're not convinced yet, that's why you should give your children a holiday in Bibione.
The beaches in Bibione are children-friendly
Imagine being able to relax under the sun umbrella, reading that book that you have kept on your bedside table for too long. Think of not having to invent dozens of activities to entertain your child, when he cannot take a bath and says he gets bored. Here, getting bored on the beach in Bibione is practically impossible. For everyone. Every day many free activities are organized for adults, children and teenagers, with qualified staff and with particular attention to the youngest guests. The Bimbo Village has been designed for them, and the Baby Club (for children aged between 3 and 5 years) and the Mini Club (reserved for children aged between 6 and 12 years) are dedicated to them.
Which part of the beach is most suitable for families with children? There is no place on the coast of Bibione that is not suitable for children. However, there are areas that are particularly attentive to younger guests, such as Lido del Sole: it is before Bibione Pineda and after the thermal establishment and is a quiet area that tastes of peace and relaxation. The spaces between the sun umbrellas are wide, so that the children can play freely, and the area Un nuovo posto al sole (A new place in the sun) makes available – instead of the traditional umbrella – a gazebo with three beds with sunshade, deckchairs and tables. Or Lido dei Pini which – famous for hosting Pluto's Beach, destined for four-legged friends – is all a triumph of games, activities and services for the family.
And safety? This is an aspect that Bibione is very keen on, and on which it has invested a lot. On the beach, there is a rescue service at sea, and there are first aid points with professional nurses ready to run to help during working hours.
By bycicle in Bibione, with mom and dad
Aren't you (only) beach people, and at a location you ask that it is also rich in distant sea opportunities? Bibione, among the family-friendly locations, is one of the most versatile. Here, life takes place not only on the beach, but also in the hinterland: there are so many opportunities for family fun, which does not include only the sea, starting from bicycle excursions.
Especially for those who live in the city, cycling in the nature with their children can be a utopia. Why don't you take advantage of it on holiday? Among the most suitable routes to be covered with children, in the child seat or in your wake, there is the itinerary that leads between the Brussa and the Vallevecchia. You ride on dirt and paved roads, you touch towns like Lugugnana, Brussa and Castello di Brussa, and you dive into nature and breathe peace. This special path leading up to the Vallevecchia route that most people know for its dunes. A sort of "middle ground", where birds nest and beauty ravishes the eyes. Those of adults and those of children.
And what about the Family Bike Fun? An event full of fun for adults and children who, after having travelled a common stretch, will divide. Mum and dad will continue with the guide while the children, dutifully supervised, will go to an educational farm or will try a mountain-bike tour. Scheduled on Mondays and Fridays from 3.30 pm, it is a wonderful initiative to take the desire of exploring on holiday.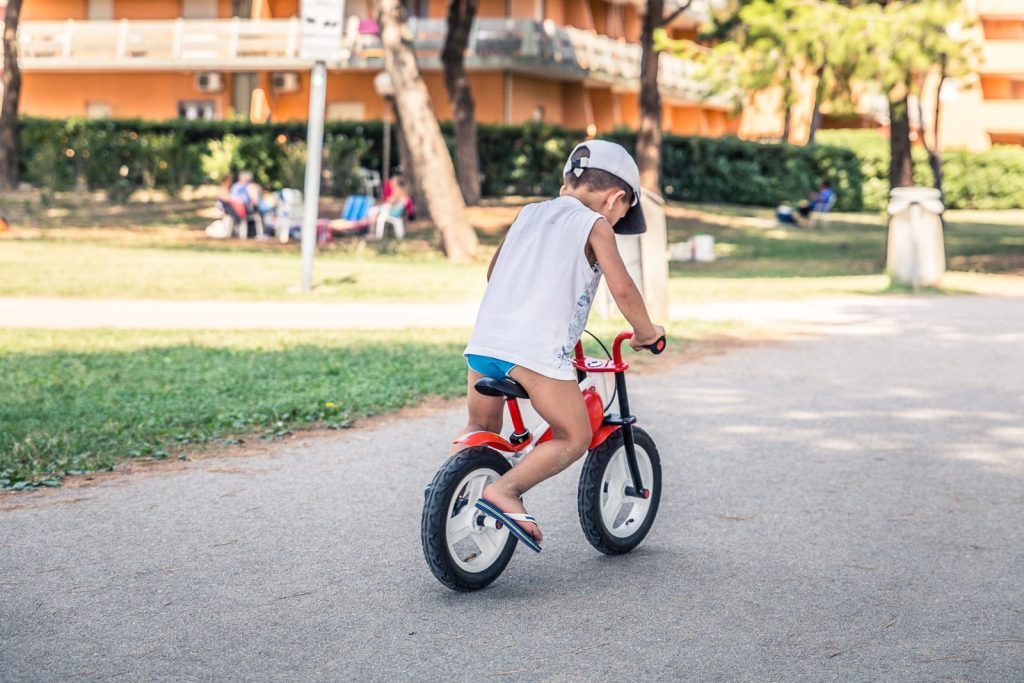 In Bibione, children learn the value of nature
And if we told you that a holiday in Bibione can also be … educational? That is exactly how it is: here, thanks also to the many excursions that you can do on foot and by bike, you learn to visit a place slowly, savouring the rhythms of a non-fast tourism that allows you to discover otherwise invisible places. Exploring the hinterland of Bibione means admiring millennial waterways and unspoiled nature, amid the scents of the trees and the sea breeze. And is there perhaps more beautiful teaching than helping children understand how important the planet is to us?
This is a teaching that can also be given at sea. Bibione Pineda – that couples love for its fascinating sunsets, with the sun going down in the lagoon – is a land still untouched. Walking along its shoreline, you reach the Mediterranean Garden of Bibione, full of cornflowers, orchids and gentians. Among the holm oaks and black pines, turtledoves, great tits and nightingales can be seen, and children are given an unforgettable experience. Before returning to the beach, once again children-friendly.
The theme parks in Bibione, for a day full of fun
Finally, in Bibione, there are theme parks. Is your child pretty curious, and is he fascinated by the animal world? You can take him to the Taygor Live Reptiles, where he will see reptiles and insects, fish and fossils. Or in Lignano Sabbiadoro, ten minutes by car from the town, at the Parco Zoo Punta Verde, a green oasis where you can admire over a thousand animals of 150 different species, immersed in an environment that respects them and that meets their needs.
If instead what you are looking for is pure fun, there is the Parco Giochi Rio Arcobaleno which – immersed in the green of the pine forest – hosts inflatables and a go-kart track, springboards for jumping, an 18-hole mini-golf course, a safari and a pond in which "ride" amusing swan-shaped boats. The Luna Park Adriatico is perfect for the evening: with its 65 rides, it is one of the main Italian amusement parks. And it's all a blaze of cotton candy, sounds and sparkling lights. While, a few kilometres away, there are water parks and go-kart tracks. Because getting bored in Bibione is really impossible.