If you've always thought that Bibione was "just" a seaside resort, you were wrong. The ward of San Michele al Tagliamento, in that corner of Veneto that borders Friuli Venezia-Giulia, has much more to offer than a long beach and a Blue Flag sea. It is a family-friendly destination, Bibione, the perfect place for a trip with your children or with your four-legged friend. But it is also the ideal destination for those who love active holidays, for those who want to alternate relaxation under a sun umbrella – on a strictly smoke-free beach – sports-filled afternoons (in the water, on the beach or inland) , bike rides along the river and the pine forest, and visits to the many cities that draw the surroundings.
Because Bibione is, first of all, a green destination. A perfect location for those who, for tourism, ask that it be (above all) environmentally sustainable. First tourist pole in Europe to obtain EMAS environmental certification (in 2002) thanks to the strict environmental protection protocols adopted, and thanks to the presence of Mediterranean gardens by the sea and city parks cultivated with organic rules, it is also – by now for years – Blue Flag. A demonstration of a constant commitment, and a guarantee of a holiday capable of generating well-being. For real.
What to see in San Michele al Tagliamento
First of all, what to see in San Michele al Tagliamento? Walking through its streets, basically means walking through history. Its territory was already known in Roman times, since the Via Annia that connected Aquileia to Ravenna passed right from here. The road ran parallel to the Tagliamento and right along it there was the Mutatio Apicilia: we now know it as San Giorgio al Tagliamento and it was at the time a station for changing the horses of the Roman Empire's couriers. Because of the barbarian invasions, the inhabitants of the villages of San Michele, San Mauro and San Filippo took refuge on the islets of the Venetian lagoon and on the Insulae Bibioni, giving life to a territory that then – in 1797 – Napoleon transformed into the Municipality of San Michele.
History buffs who are on holiday in Bibione can therefore choose to spend some time visiting San Michele al Tagliamento, where they can also admire what the bombings of World War II destroyed: just bet on direction of Villa Ivancich, an abandoned home surrounded by vegetation that – today – has a Gothic and spectacular charm. There are still glimpses of those glories that recall the sixteenth century, and those environments that hosted even the writer Ernest Hemingway and the philosopher Ezra Pound. To treat yourself to a journey into the past, full of charm and melancholy.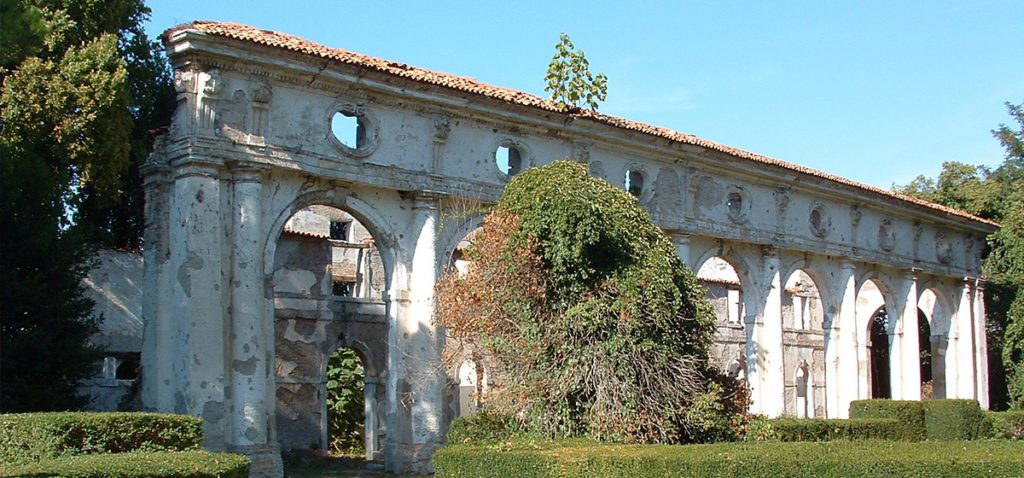 The destinations to be discovered in half a day, leaving from Bibione
But San Michele al Tagliamento is not the only place near Bibione that deserves to be known. The surrounding territories are rich in testimonies: by Andrea Palladio, Giotto, Dante, Gianbattista Tiepolo. There are Roman and Renaissance dwellings; there are bars to taste wines and sip spritz. Because, if you never get bored in Bibione, there is a reason. Where to go? If you love historical places, you can focus on Sesto al Reghena: here Roman finds have been discovered, here you can admire the masterpiece that is the Benedictine abbey of Santa Maria in Sylvis, once surrounded by the forest. Later transformed into a medieval castle, its interiors are frescoed by painters from the Giotto School.
And what about Portogruaro, which is about thirty kilometres from Bibione and which – thanks to the charm of the Lemene river – is nicknamed "Little Venice of the mainland"? Strolling here, you can see Renaissance and medieval palaces, shop among the stalls of a centuries-old market; admire the elegant houses that are reflected in the water. And, if you have a little time left, two kilometres from Portogruaro you can then visit Concordia Sagittaria, an ancient Roman colony of the 1st century BC with splendid buildings and a charm that smells of old. But there is also Aquileia – with an archaeological area that is a UNESCO World Heritage Site and with the extraordinary Basilica of S. Maria Assunta – and there is Cordovado, an ancient medieval village that is counted among the most beautiful villages in Italy, whose historic core is almost intact.
Finally, if you wanted to push yourself a little further and maybe take advantage of a cloudy and cool day to get away from the beach and to discover one of the many beauties that Italy hides, there really is plenty of choice: Trieste, Vicenza, Verona, Treviso, Udine, Padua and Venice are perfect destinations for a day trip. And to give your holiday the taste of art and history.
By bicycle along the Tagliamento
For you is there no vacation without a bit of sport, without long walks and pleasant bike rides? By choosing Bibione, you won't be disappointed. In fact, the Tagliamento creates splendid sceneries, to be enjoyed by pedalling slowly, to listen to the sounds of nature and to fill your eyes with them. Here, a ring-shaped route for mountain biking leads between the fossil dunes on the sea and the banks of the river, slips into the pine forest and leads up to the Lighthouse, where you can admire the sea with its horizon.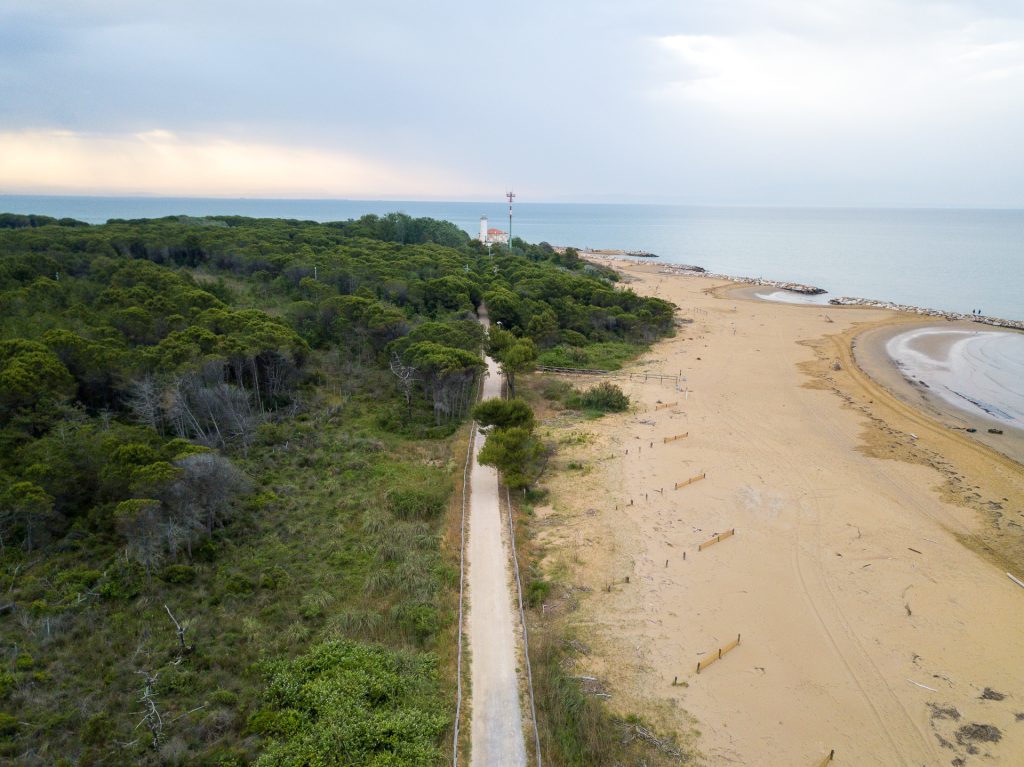 If you want to put yourself to the test, instead, with a slightly longer course there is the Gira Tagliamento. Cycling along it, from the Faro di Bibione you reach San Michele al Tagliamento and – later – the town of Alvisopoli. You ride between water hens and mallards, exploring the hinterland of Bibione with its nature and its colors.
Because, if there is a place that can bring everyone (but everyone) into agreement, that is Bibione. Sportsmen and those in search of relaxation, history buffs and birdwatchers, families with children, couples, groups of friends and those – no longer young – seek a place to feel good and relax: the Venetian city between the sea and the Tagliamento is destined to enter the heart of everyone. And to become the backdrop for unforgettable days.