Bibione is a place that loves sport. This is demonstrated by the many sporting events organized from April to September, which involve both competitive level athletes and enthusiasts. Beach volleyball, cycling and half marathons, but also many excursions and walks in the countryside: from a sporting point of view in Bibione you never stop!
And do you know what the thing we like best? These activities know how to involve both the very young and the more mature public, because Bibione is for everyone. If you like to keep fit and love the sea, the beach and nature then let yourself be inspired by this location and discover all you can do on holiday. Here's what we'll see:
• Why Bibione is a paradise for sportsmen
• Sport in Bibione between walks and cycling
• The sea and the lagoon protagonists of sport in Bibione
• Bibione beach: beach volleyball, beach tennis and fun
• Major sporting events not to be missed
Why Bibione is a paradise for sportsmen
Certainly, you will not be bored and there are proposals for all tastes, especially for those who are planning a holiday with children! But which activities to practice?
Bibione stands out for its stretches of golden sand and clean, crystal clear waters. Here nature thrives. There is ample space available for those who want to practice sports and on the beach, throughout the summer season, free dance lessons, gymnastics, pilates, yoga classes and much more are organized.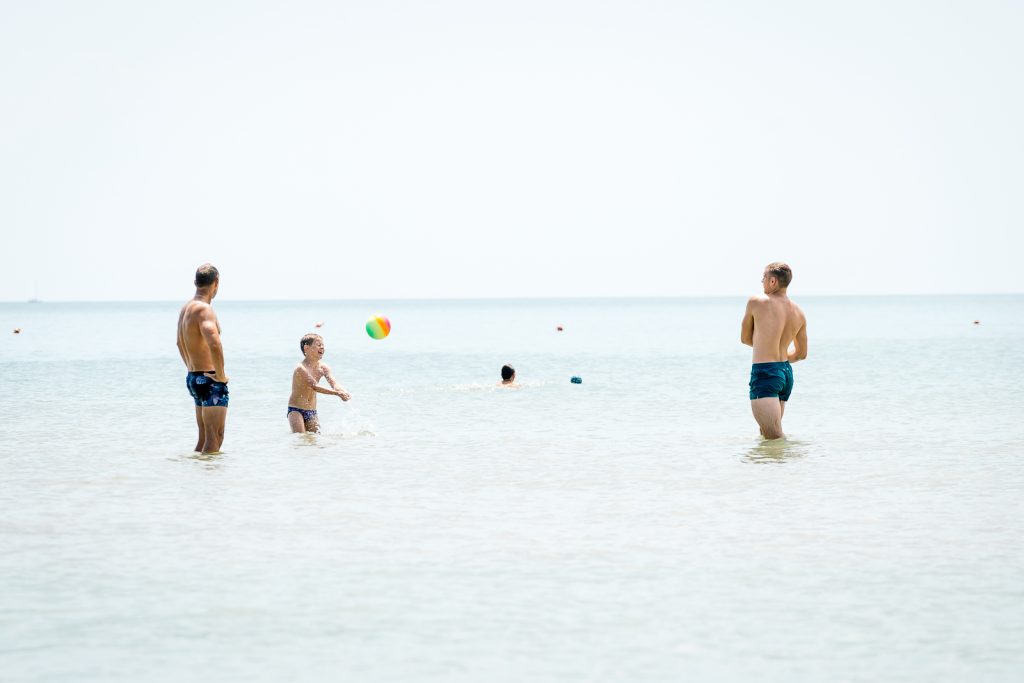 Sport in Bibione between walks and cycling
Do you love walks and bike rides? The ideal, then, are beautiful walks along the sea or in the city centre, an evening meeting point for vacationers. You can also participate in a group to the Bike Nights evenings. They are held in July and August from Pineda to the Lighthouse and are also an excellent opportunity to make new friends on holiday.
If your passion is Nordic walking, it means that you like sustained walking. The municipality of San Michele al Tagliamento in recent years has become a very interesting destination for walking. In all Bibione there are many excursions for those who simply want to walk admiring the landscape and circular routes for walkers. And right here, in addition to the many hotels belonging to the Club Bibione Family Hotels, facilities are available for outdoor life enthusiasts. What are we talking about? About the Club Bibione Bike Hotels and the Club Bibione Walking Hotels, tourist facilities and hotels in Bibione that help fans of all these sports, providing targeted services, equipment rental, card and discounts.
The sea and the lagoon protagonists of sport in Bibione
Playing sports on holiday is even more pleasant, especially for families with young people and children who can live memorable experiences together! Bibione is of course the ideal place for sports in contact with the sea. The waters are very clean, the sea invites you to regenerate with pleasant swims and the safe and accessible beaches offer great tranquility.
In addition, thanks to the winds parallel to the sea, this location is also ideal for kayaking, water skiing, sailing, canoeing, paraflying and windsurfing. Haven't you ever practiced these sports and would you like to learn? You are welcome! In Bibione, you can learn all the water sports with professional instructors who organize courses for every level and age. A water sport for everyone? The kayak, which gives magical emotions along the water on the lagoon.
In Bibione, there are also specialized schools to teach children to swim in an easy and pleasant way. And if you like you can also practice diving with a diving course. Fishing enthusiasts, on the other hand, can devote themselves to sport fishing, both at sea and in the inland waters of the Tagliamento River, near the mouth or in the internal channels where it is possible to fish for trout, carps and other species.
Bibione beach: beach volleyball, beach tennis and fun
With its 8 km of coastline, the beach of Bibione is really ideal also for sports activities that involve the very young people: beach volleyball and beach tennis. Here the beach is specially organized for these sports and tournaments are regularly organized for simple enthusiasts and professionals.
In addition, in 2019 Bibione will be the protagonist of two stages of the Mizuno Beach Volley Marathon (May and September), an unmissable volleyball competition with over 10,000 athletes expected, divided into 2500 teams. An event not to be missed!
And after a long day at the beach will you stop? Of course not! At sunset, the meeting point for sports holidaymakers is by the sea to do some jogging or long evening walks that rejuvenate the mind. Others, however, after a day in nature recharge their batteries at the Bibione Thermal Centre, for moments of total relaxation with the whole family. In Bibione Spa, wellness and treatments are combined with fun and entertainment: an ideal place also for children who find a center of excellence to treat rhinitis, ear infections and allergies right here.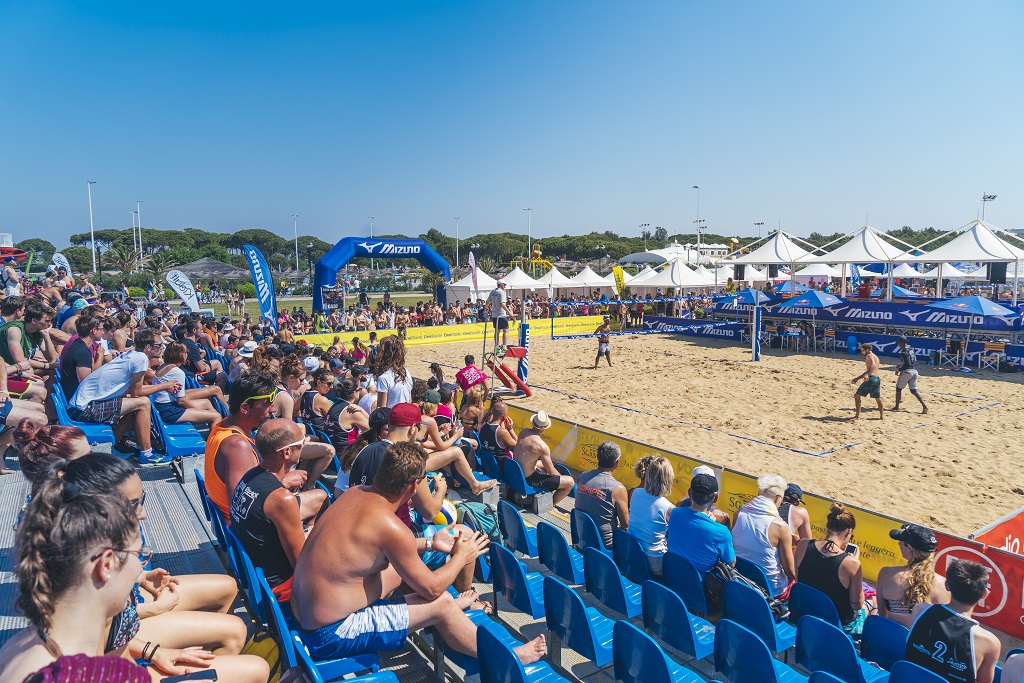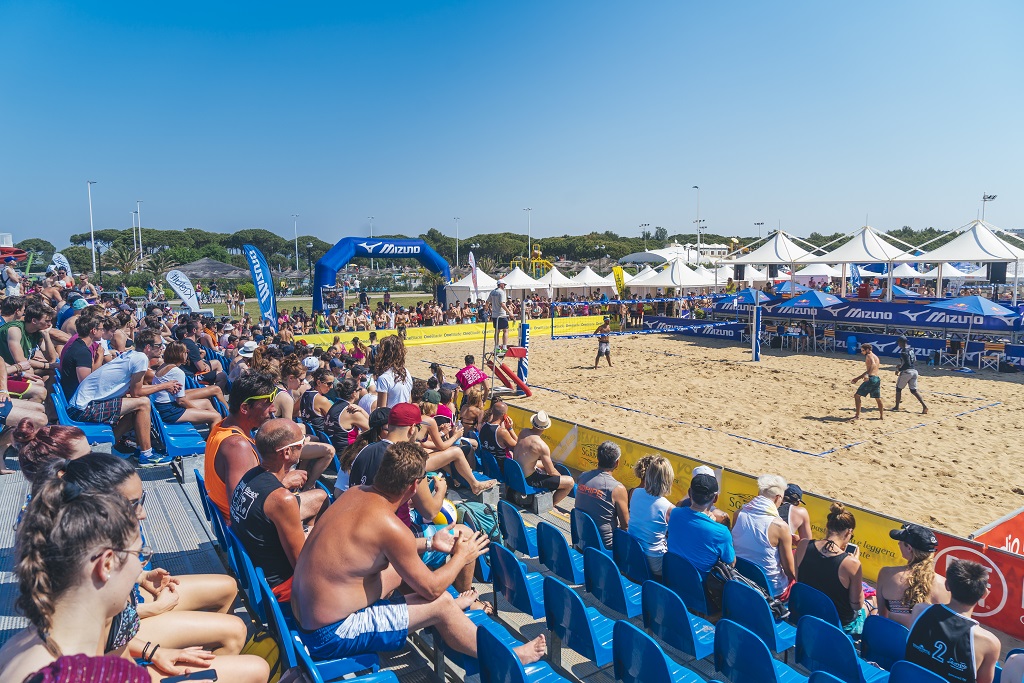 Major sporting events not to be missed
Bibione confirms its dynamic and sporting soul also in the rich program of events designed to entertain and involve participants and audiences of all ages!
The calendar of Bibione events 2019 is already ready to host the Beach Ultimate FRISBEE® (team sport where the protagonist is the flying disc) in April and the Bibione Half Marathon and the triathlon with the Bibione Volkswagen TriO Series in May. In September the Bibione in Rosa charity event returns, a race dedicated to women, and the Bibione Run, an event that attracts runners and simple enthusiasts, for a competitive race (10 miles or 20 miles) or a free-pace route (10 miles ). In the same month, important cycling competitions are held, such as the Wilier Bibione Bike Trophy. Other much awaited events are then Bibione Up and Bibione Beach Fitness in September. These two sports gatherings bring together all the sports enthusiasts on the beach and involve thousands of participants in 250 hours of activity with 200 professionals from various disciplines who take turns on 14 stages. Bibione becomes a borderless gym where you train and sculpt your body in a crescendo of energy. The Bibione weather conditions towards the end of September are generally still good, with pleasant temperatures so this event is one more occasion to enjoy the last days of summer!