May 16, 2018: The works of the ferry pier of the bike path between Bibione and Lignano Sabbiadoro are almost finished. It will be a real "boat passage" for the transport of bicycles and persons, allowing them to cross directly the Tagliamento, instead of forcing a long detour through the countryside. Bibione is in fact practically an island that is connected with the rest of the area by two bridges; the bicycle ferry will allow the cyclists to stay constantly near the beach, the forests and the pine forest.
The preparatory work was the construction of a docking jetty, which is 500 meters uphill from Bibione's Lighthouse, a splendid symbol of our locality, which has recently been renovated and has become of great fashion for weddings, which is the starting point to Lignano Sabbiadoro.
Instead, the boat dock will be on the already existing dock of the marina of Marina Uno in Lignano Riviera.
On the 19th May at 10:00 at the pier of Bibione, in Via del Faro and at 11:00 at the pier of the Port Marina Uno of Lignano Riviera, the INAUGURATION will take place in the presence of the authorities of the two concerned communities: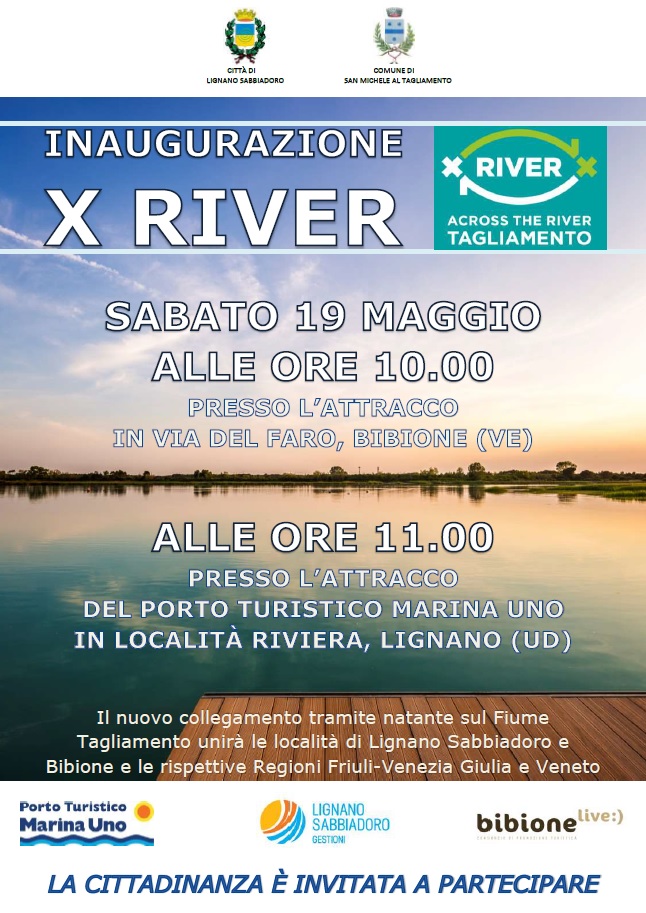 Opening hours and information
The service will be completely free and will call itself X-RIVER; it will have the following opening hours:
In the morning from 09.00 until 13.00 o'clock
In the afternoon from 15.00 until 18.00 o'clock
In adverse weather conditions, the transport will be temporarily suspended.
The capacity of the boat will accommodate about ten persons with their two-wheeled vehicles.
This connection in fact unites the pedestrian and cyclist route of Bibione of 9 km, known as "Passeggiata Adriatico", with the 8 km of Lignano and again with the already existing routes of the hinterland. It reaches almost 240 km and offers the possibility to cyclists to reach on the one hand Venice and on the other hand the Alpe Adria cycle path, which connects Grado with Salzburg Austria. Europe on the bike!
"Passeggiata Adriatico" – Bibione:
This first intervention will be followed by the south side, which aims to unite Bibione with the fantastic Brussa (unique example of a wild beach on the upper Adriatic).
Route – Bibione – Brussa and Vallevecchia:
With this initiative, Bibione will be one of the leaders among the seaside resorts of the upper Adriatic, for its attention to families with children, for the green environment and the sustainable tourism and health promoting. Bibione, always the queen of a quality tourism!