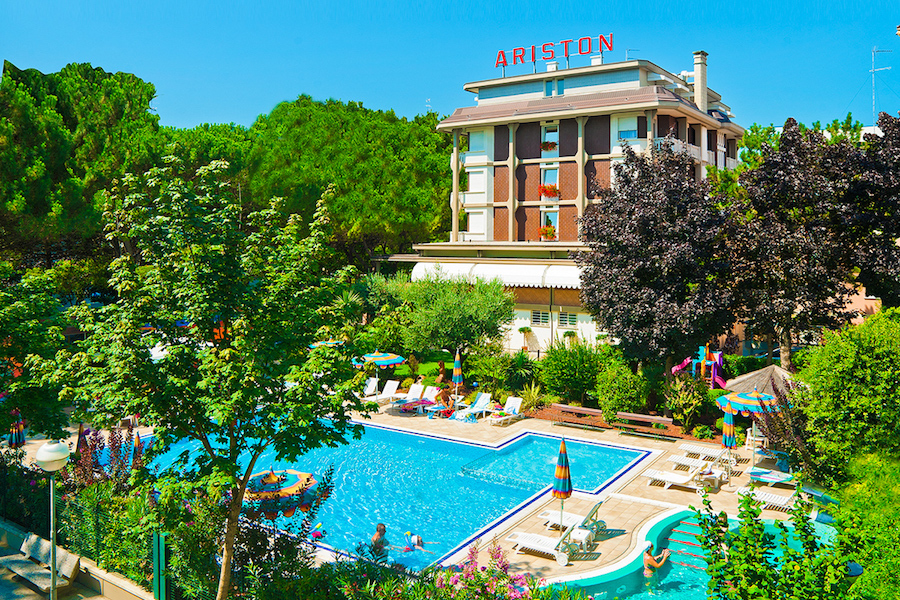 HOTEL ARISTON
Fascinating historical black and white photos embellish the walls of the Hotel Ariston, narrating the holidays in Bibione during the 60s. A precious collection of "nostalgic" images, testimonies of habits and customs, many of which have been lost over time.
What has remained unchanged, however, is the exquisite hospitality and courtesy of the Panzarin family who, since 1965, manages the hotel with the same passion and professionalism, reserving a special welcome that, still today, translates into top-notch services and attentions.
Starting with the culinary offer that uses quality and fresh seasonal products for a à la carte menu with healthy food choices that also take into account the needs of children and of those who suffer from food intolerances.
In fact, children are the true guests of honour of the hotel: animation activities, also carried out by the sea, a dedicated and safe pool, a playground surrounded by greenery, bicycles and bike helmets allow them to experience a dream holiday in a friendly and carefree atmosphere.
The same relaxed atmosphere is also provided to their moms and dads, who can indulge in poolside breaks, enjoy a hydro massage, read a good book on the beach, have an aperitif or a cocktail on the large terrace, or take a walk in the pedestrian centre of Bibione, just a few metres from the hotel.
44 rooms, equipped with the most modern amenities, with furnished balcony (some overlooking the sea), free Wi-Fi throughout the facility, a flowered garden that houses the pools, the hot tub and the bar, the reserved area on the beach, the covered parking, complete an attentive and top quality offer.
The Ariston Hotel adheres to the Spa and Walking Product Club.
Find out more www.hotelaristonbibione.it